Monfalcone the view "Beyond the clouds"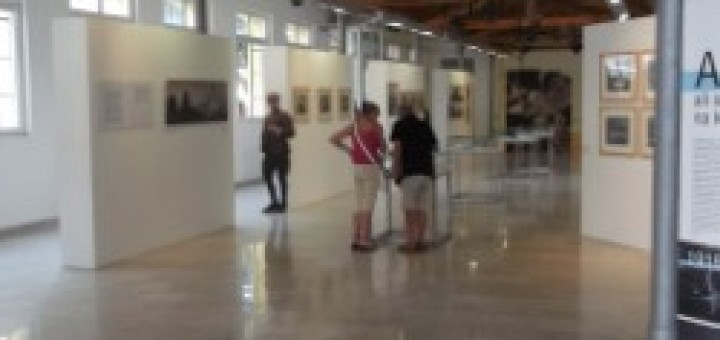 Beyond the clouds – Italian Aviators in World War I from the album of John Cividini, is the View from the cultural Consortium Monfalcone with the collaboration of the municipality of Monfalcone visited privately last 6 July, by the President of the Republic Giorgio Napolitano.
Set up in the Galleria Comunale d'Arte contemporanea di Piazza Cavour, in Monfalcone, the exhibition features a selection of original pages of the album collected by photographer John Cividini – the "photographer of the yards" how he is remembered in the town since he documented for over 30 years – from 1920 al 1950 – the productive activity of the shipyard and aeronautic of Monfalcone and the development of workers ' village of Panzano.
His album, composed of 32 collecting leaves 177 stampe fotografiche di formati diversi, relative all'attività dei campi di volo de La Comina e di Aviano,comprende oltre ai suoi scatti anche altre immagini riprese dagli amici aviatori di quei campi di volo: quindi particolarmente interessanti perché comprendenti anche fotografie scattate durante i loro voli bellici.
Viene fra gli altri esposto il noto ritratto dei piloti Maurizio Pagliano e Luigi Gori davanti al loro Ca 3 – 2378 "Asso di picche": autori di azioni di bombardamento che sono passate alla storia, vengono soprattutto ricordati per i bombardamenti su Pola del 3 – 4 and 8 August 1917 con a bordo quale osservatore Gabriele d'Annunzio. Sarà lo stesso d'Annunzio a proporre che a loro venisse intitolato l'aeroporto di Aviano dal quale operavano, dopo la loro morte del 30 December 1917 quando il loro Caproni venne abbattuto nel corso di una missione lungo al linea del Piave, precipitando nei pressi di Susegana.
Source: The Flight