A380 Lufthansa escorted by MiG-29 Bulgarians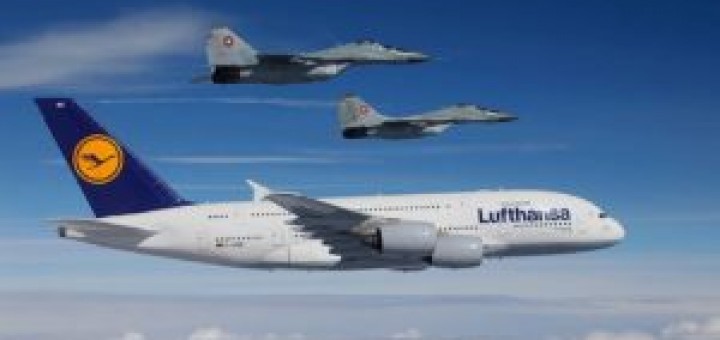 Yesterday 16 ottobre è atterrato per la prima volta a Sofia un Airbus A380 Lufthansa.
Il volo LH9916 era decollato alle 10:07 locali da Francoforte, ai comandi il primo ufficiale Mario Bakalov, l'unico pilota bulgaro della compagnia Lufthansa. A bordo una delegazione di giornalisti, fotografi, rappresentati, e politici.
Dopo essere entrato nello spazio aereo bulgaro, l'A380 (D-AIMD) è stato scortato da alcuni MiG-29 della Bălgarski Voennovăzdušni sili, l'aeronautica militare bulgara. L'A380 è atterrato a Sofia alle 13:14 locations. L'evento aveva lo scopo di pubblicizzare i nuovi voli a lungo raggio introdotti da Lufthansa.
Ecco alcune immagini pubblicate proprio dall'aeronautica militare bulgara. (Credit: Bulgarian Air Force / Ognyan Stefanov)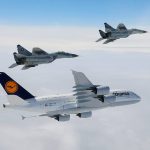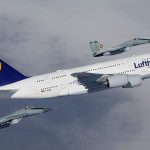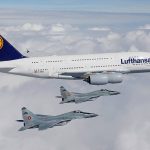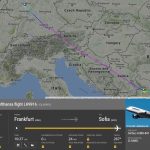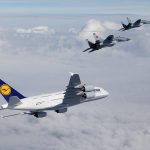 Grazie agli amici di Flight Video & Photo vi avevamo già mostrato alcune immagini air-to-air dei MiG-29 e MiG-21 dell'aeronautica militare bulgara, riprese a bordo di un Alenia C-27. Potete rileggere l'articolo e riguardare il video al link : "In volo con i MiG-21 Fishbed bulgari"
The post A380 Lufthansa scortato dai MiG-29 bulgari appeared first on From The Skies.
Source: From the skies