The aquarium comes in Olbia Airport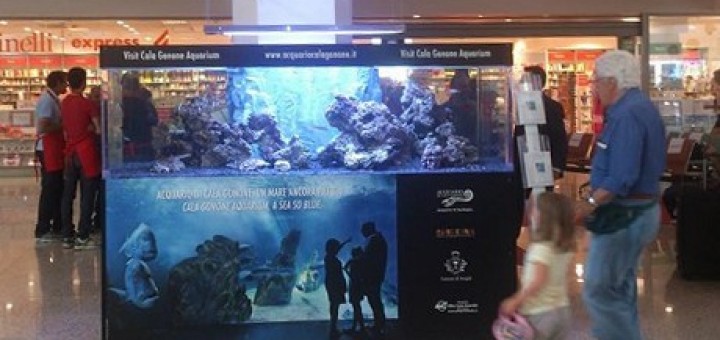 L'Olbia airport ha scelto due partner di alto prestigio per un progetto innovativo di grande respiro: lo scalo internazionale non solo come luogo di arrivo e di transito, ma come centro nevralgico di marketing territoriale, al servizio del viaggiatore.
In collaborazione con il Comune di Dorgali e Panaque, azienda leader del settore acquariologico ed attuale gestore assieme a Costa Edutainment dell'Acquario di Cala Gonone, GEASAR ha installato nella Hall Centrale dell'aerostazione un magnifico acquario che ospita una vivace rappresentanza del Mar Mediterraneo.
"Abbiamo da sempre abituato i viaggiatori del Costa Smeralda a nuove avventure," sottolinea l'ad di Geasar Spa, Silvio Pippobello, "stimolandoli alla scoperta della Sardegna sin nei territori più sconosciuti e meravigliosi, accogliendoli con le nuove tecnologie e accompagnandoli nella scoperta delle tradizioni e del patrimonio della Gallura, della Sardegna e dell'intero Mediterraneo. Ecco perché Dorgali, con il suo impegno per uno sviluppo turistico che valorizza i luoghi e le sue attrattive uniche, rappresenta il partner ideale".
The operation "Acquario in Aeroporto" è un progetto ambizioso che mette in rete soggetti privati e pubblici e che promuove il territorio in modo originale, con l'intenzione di suscitare un forte impatto emozionale verso un territorio ricco di valenze ambientali, archeologiche ed enogastronomiche, come quello Dorgalese che negli anni ha sposato l'idea di uno sviluppo turistico che mette al centro l'ambiente e la cultura del suo rispetto.
Source: The Flight