Boeing unveils first 787-9 Dreamliner for Etihad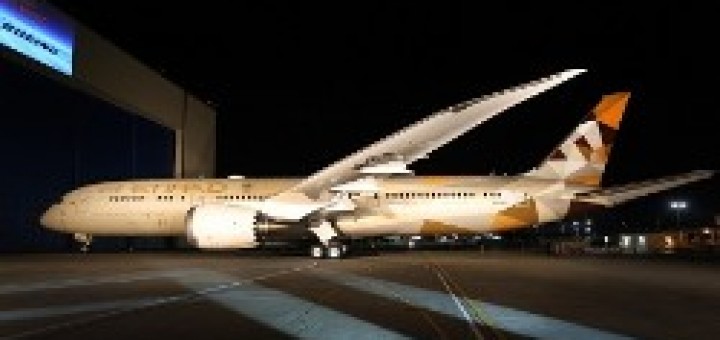 Boeing ha svelato il primo 787-9 Dreamliner che sarà consegnato a Etihad Airways. L'aeroplano è verniciato con la nuova livrea 'Facets of Abu Dhabi' con colori ispirati a panorami desertici, elementi decorativi e di design che ricordano la cultura islamica e degli Emirati Arabi Uniti.
"Gli Stati Uniti sono una parte strategicamente importante del nostro network" ha dichiarato James Hogan, president e CEO di Etihad Airways "Nel momento in cui, today, celebriamo la consegna del nostro primo 787, intendiamo continuare a promuovere la world-class di Etihad Airways e un'esperienza di viaggio senza paragoni per offrire maggiore scelta ai viaggiatori americani che viaggiano con noi in tutto il mondo".
Etihad Airways riceverà il suo primo 787-9 alla fine di quest'anno. Con un totate di 71 Dreamliner ordinati (41 in the version 787-9 and 30 in the version 787-10), la compagnia di Abu Dhabi è uno dei maggiori clienti di questa famiglia di aeroplani.
Il vettore ha già annunciato che il 787-9 verrà introdotto sui voli per Dusseldorf, Germany; Doha, Qatar; Washington, USA; Mumbai, India; Brisbane, Australia e Mosca, Russia.
Source: The Flight