Eurofighter Typhoon Austrians to protect the WEF 2016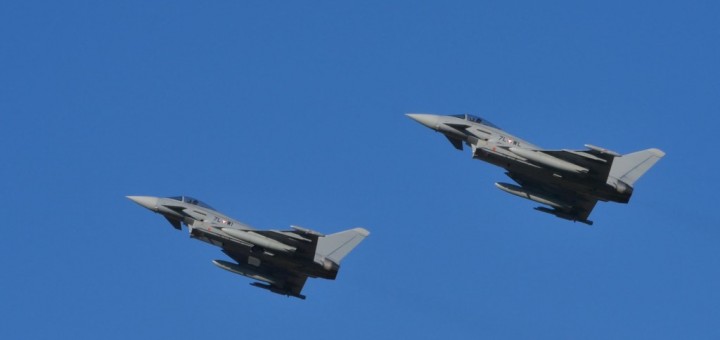 From 20 al 23 January was the World Economic Forum in Davos.
This event attracts leading exponents of international politics and economy, with a bevy of carefully selected journalists. The various representatives meet to discuss current and pressing issues the world is facing, on economics, environment, Bless you…
AND' so that every year Davos, Besides being famous for its ski resort, becomes for a few days on the fulcrum of the world.
The Swiss air force and Austrian air force (Austrian Air Force) have the task of protecting the skies of Davos during the economic forum, where is a No Fly Zone. The No Fly Zone is a zone banned to any air traffic, and is subject to military control.
Swiss air bases engaged in this activity have been Zion in 2014, Meiringen in 2015, Payerne in 2016, where they joined the F-5 Tiger and F-18 Hornet. In this video of 2015 You can watch the F-5 Tiger II – with its distinctive livery of Patrouille Suisse – take off and land from Meiringen. They are armed with missiles AIM-9P5 and equipped with a ventral fuel tank.
Video: HTTPS://www.youtube.com/watch?v = tI13hLT3ORU
The Switzerland has started to withdraw its F-5 by the service. 10 have already been decommissioned, 22 are still in service 6 repaired recently after they were identified structural damage. The Saab Gripen and would replace the F-5 but, following a referendum, the Swiss population chose not to purchase new aircraft. Now the Swiss Defence has postponed the withdrawal of the F-5 to 2017, waiting to find a solution.
Swiss forces deployed to protect the skies of Davos even the F-18 Hornet, armed with AIM-9 x and AIM-120B AMRAAM
Video: HTTPS://www.youtube.com/watch?v = AH-N9fss924
The Austrian air force this year they redeployed 15 Eurofighter Typhoon at Zeltweg. The surveillance operation under the name of "Daedalus 16". The Typhoon, armed with an IRIS-T missile and equipped with two drop tanks, flew over the No Fly Zone to intercept any intruders. Here are pictures of the Eurofighter in action at Zeltweg resumed Saturday from Flight Video & Photo.
Video short version: HTTPS://www.youtube.com/watch?v = m3RM9QQogRk
Video long version: HTTPS://www.youtube.com/watch?v = AQMKcF3leIw
The Austrian post Eurofighter Typhoon to protect the WEF 2016 appeared first on From The Skies.
Source: From the skies