The Vampire raises the asphalt from the track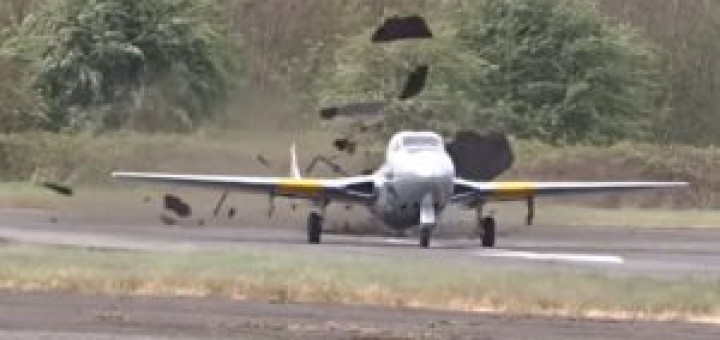 Spectacular crash and without consequences that happened Sunday 30 April at Wolverhampton-Halfpenny Green, in the United Kingdom, While it was going on Radials, Trainers & Transport 2017
During taxiing and takeoff on de Havilland DH 100 Vampire WZ507 raised some parts of asphalt from the track which fortunately have not damaged the Vampire. The pilot, unaware of what was happening, He continued the take-off run, and landed on one of the other runways Ha'penny airport. Video.
The Vampire is a British fighter designed in 1941 by de Havilland Aircraft Company, used by the Royal Air Force at the end of World War II, He was also the first jet aeroplanes to be used by the Italian air force.
The model in the video is the WZ507, built in 1952 and entered RAF service in 1953. In 1969 He was retired from service and in 1980 He became the first ex-RAF jet to be registered in the UK with civil registration number G-VTII, After being restored and back in flying conditions.
The Vampire has a particular conformation, with double tail boom, why the Jet engine exhaust nozzle was aimed down, below the horizontal plane of the queue.
At Halfpenny were already provided for renovations to accommodate the track jacket. The Vampire, with engine exhaust downwards, has done nothing but raise the asphalt which was already in poor condition.
The post The Vampire raises the asphalt from runway appeared first on From The Skies.
Source: From the skies