The Airbus A350 XWB MSN004 successfully completes testing of water ingestion "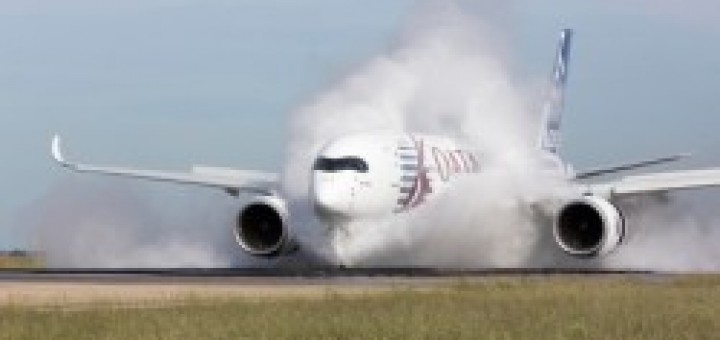 Airbus has successfully completed the certification tests that prove the ability of'A350 XWB operate on wet tracks. During these tests, executed in Istres, in France, MSN004 aircraft, the ' aircraft used for flight test, He travelled at different speeds, starting from 60 knots and accelerating up to 140 knots, in special ' channels' containing 22 mm d ' water.
The test, that certify the conduct of ' aircraft on a track where there is a large amount of water, check that neither the ' water under all aircraft ', Neither spatters generated by the front landing gear from all internal ' or ' engine Auxiliary Power Unit (APU). To perform the test, in track were specially made grooves in which were inserted rubber strips to hold the water '. This particular ' elongated pool ', of 100 meters long and 29 meters wide, was used to run many races, to test various situations, including the thrust reversal '. The results will be analyzed by the Airbus Design Office ', they use to predict a variety of typical operating scenarios.
Certification tests of ' A350 XWB are progressing as planned and will be completed in the third quarter 2014. In the fourth quarter 2014 the ' aircraft will enter service with Qatar Airways. The first 4 A350 aircraft used to fly lyrics have accumulated a total of about 1.600 hours of flight tests over more than 350 flights. The fleet used to flight test will be at full strength once, in the coming weeks, will entered the fifth aircraft, MSN005.
Source: The Flight