The AW139 helicopter crashes 118 in Abruzzo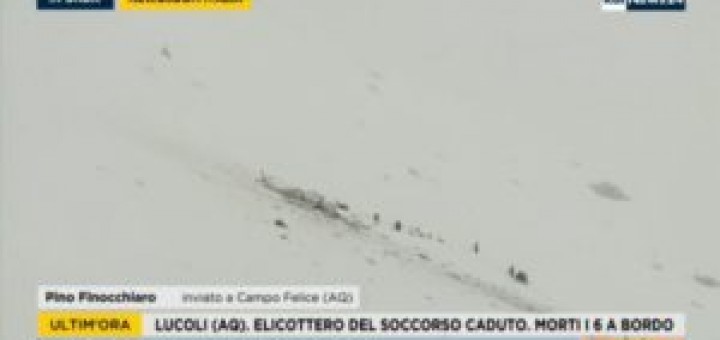 As reported by ANSA and other news publications, a helicopter then serving for the 118 crashed between L'aquila and Campo Felice. The helicopter would have crashed when retrieving a wounded on a ski field at Campo Felice. On board six people.
According to preliminary information, the helicopter, an AgustaWestland AW139, would be precipitated by a height of 600 metres at 12:00 about, the ELT signal (emergency locator transmitter) was located in the locality of Casamaina, in the municipality of Lucoli, near the plains of Campo Felice. Some witnesses claim to have heard a roar.
The aircraft was not involved nor for the emergency weather nor to that of the earthquake, It was a normal flight of rescue. It wasn't part of the helicopters that these days are busy on the avalanche that swept the hotel Rigopiano.
UPDATE [24.01-12:50] Happy Camp The #Aquila LOW VISIBILITY' #Disperso #NEBBIA #elicottero #incidente rescue for 118 #AW139 6 on board pic.twitter.com/VJ9wToSa6W
— Emergenza24 (@Emergenza24) January 24, 2017
They were sent first aid, in the area there is a thick blanket of fog and low clouds.
### Update ###
Relief efforts have reached the point of impact, There are no survivors. The helicopter was an AW139 (EC-KJT) by Inaer Aviation Italy.
The AW139 helicopter Rushes of post 118 in Abruzzo appeared first on From The Skies.
Source: From the skies