Precipita elicottero AW139 del 118 in Abruzzo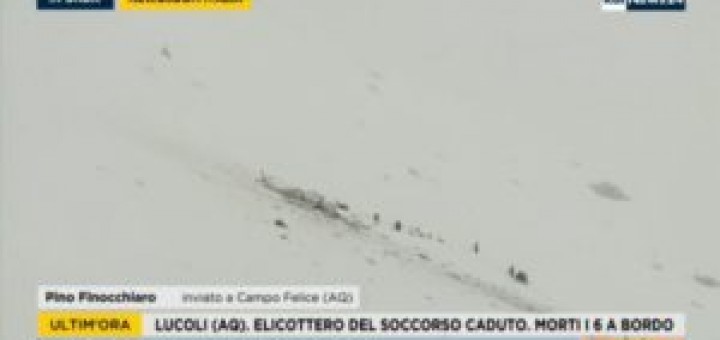 In base a quanto riportato da ANSA e altre testate giornalistiche, un elicottero che prestava servizio per il 118 è precipitato tra L'Aquila e Campo Felice. L'elicottero sarebbe caduto in fase di recupero di un ferito su un campo da sci a Campo Felice. A bordo sei persone.
Secondo le prime informazioni l'elicottero, un AgustaWestland AW139, sarebbe precipitato da un'altezza di 600 metri alle 12:00 circa, il segnale ELT (trasmettitore di localizzazione d'emergenza) è stato individuato in località Casamaina, nel comune di Lucoli, nei pressi della piana di Campo Felice. Alcuni testimoni affermano di aver sentito un boato.
Il velivolo non era impegnato né per l'emergenza maltempo né per quella relativa al terremoto, era un normale volo di soccorso. Non faceva inoltre parte degli elicotteri che in questi giorni sono impegnati sulla valanga che ha travolto l'hotel Rigopiano.
UPDATE [24.01-12:50] Campo Felice L'#Aquila SCARSA VISIBILITA' PER #NEBBIA #incidente #disperso #elicottero di soccorso 118 #AW139 6 a bordo pic.twitter.com/VJ9wToSa6W
— Emergenza24 (@Emergenza24) January 24, 2017
Sono stati inviati i primi soccorsi, nella zona è presente una fitta coltre di nebbia e nuvole basse.
### Aggiornamento ###
I soccorsi hanno raggiunto il punto di impatto, non ci sono superstiti. L'elicottero era un AW139 (EC-KJT) di Inaer Aviation Italia.
The post Precipita elicottero AW139 del 118 in Abruzzo appeared first on From The Skies.
Fonte: From the skies