First flight for Extra 330LE with electric motor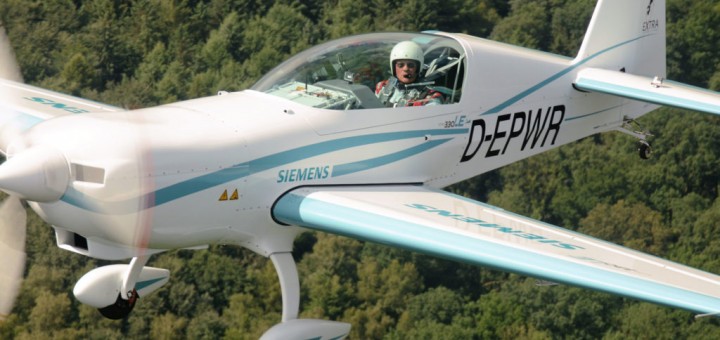 it 24 June flew for the first time the Extra 330LE, electric version" the famous Extra 330L. SP260D electric motor installed on the Extras 330 The was developed by Siemens in the project "eAircraft".
The aircraft made its first public flight on 4 July, Walter Extra commands. This is the first flight for an aircraft, with electric motor, in this category (CS23) . Here's the video of her first flight.
The Extra 330LE had already been presented at Aero 2016 in Friedrichshafen. As stated Frank Anton, Project Manager, Siemens eAircraft, to test the electric motor has been chosen the Extra 330 because, being acrobatic, has excellent performance with an exceptional power-to-weight ratio, that makes it possible to carry a sufficient number of batteries required to operate the electric powertrain. In addition the flexibility offered by the technicians of Extra German Aicraft – founded by Walter Extra – enables effective collaboration with Siemens. A great "testbed", an ideal test bed to develop the electric drive.
The electric motor SP260D is a record: weighs just 50 Kg and can develop 260 kW equal to 350 HP. The corresponding Lycoming IO-580, piston engine mounted on the Extra 330L, PESA 200 Kg dry weight and can develop between the 300 and 315 HP (among the 224 and 235 kW). The takeoff weight of Extra 330LE is 1000 Kg, equal to that of the Extra 300 l. Autonomy of 20 minutes. The Achilles heel of electric drives are the batteries that are still relatively heavy and vulnerable. With the advent of new technologies and materials, as Graphene, can they overcome this obstacle and make even more efficient and less heavy batteries.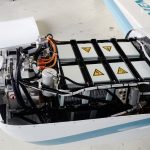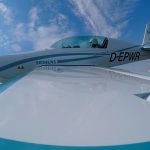 This further success in electrical propulsion confirms that the "electric flying" Possibly, as was amply demonstrated – Although on different scales and with different performance – from Solar Impulse 2. Even NASA has announced that it will begin testing on a new type of aircraft within the program X-plane, called X-57, It will work with a pure electric propulsion. The base choice to develop the X-57 is an italianissimo Tecnam P2006T, edited using 14 electric motors. According to the designers, the increase of the engines reduces the amount of energy needed to reach a cruising speed of 175 miles per hour.
We can expect future… electrifying.
Photo: Siemens.com
The post first flight for Extra 330LE with electric motor appeared first on From The Skies.
Source: From the skies