Transferred to Hamburg the first Airbus A330-200 with the new livery Eurowings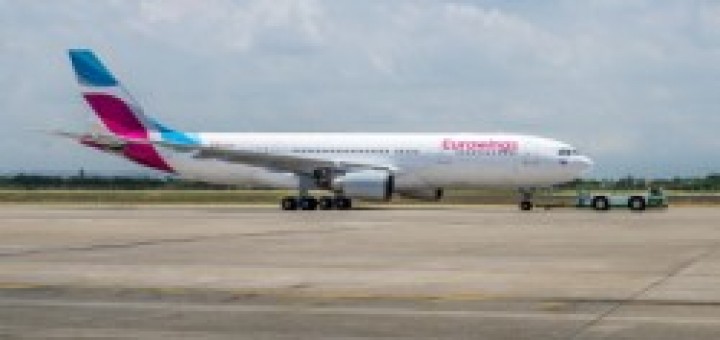 The new Eurowings si prepara ai suoi primi voli a lungo raggio, that will take off in November 2015, ricevendo il primo aeromobile destinato alle rotte long haul, a Airbus A330-200, verniciato con il nuovo design della compagnia aerea tedesca. La scorsa settimana l'aeromobile ha lasciato l'officina per la verniciatura a Taipei, Taiwan, con i colori della nuova Eurowings ed è stato trasferito oggi alla Lufthansa Technik di Amburgo per l'installazione della cabina. L'arrivo è previsto alle 19 now. Un secondo A330-200 seguirà nelle prossime settimane.
L'A330 con il codice identificativo D-AXGA della nuova Eurowings inizierà a operare il 2 November 2015 dall'aeroporto di Colonia/Bonn su rotte intercontinentali, compreso il primo collegamento con Varadero, Cuba. Eurowings darà inizio alla propria offerta per destinazioni a lungo raggio con due A330-200 operativi da Colonia/Bonn. I voli saranno operati da SunExpress Germany, the joint venture between airline Lufthansa and Turkish Airlines. Nella Winter 2015/2016 la nuova Eurowings offrirà un totale di sei voli a lungo raggio, comprese famose destinazioni nei Caraibi (Puerto Plata, Punta Cana, Varadero), in Tailandia (Phuket, Bangkok) così come Dubai.
Source: The Flight