Aeronautica Militare: Italian structures participating in exercise JAWTEX in Germany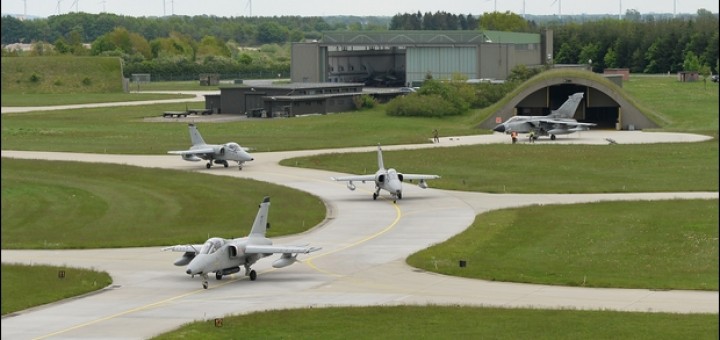 L' Aeronautica Militare partecipa in questi giorni in Germania con tredici velivoli e circa duecento militari – among pilots, specialisti e personale addetto al supporto logistico e operativo – ad una delle più importanti esercitazioni aeree del 2014 a livello europeo, the JAWTEX (Joint Air Warfare Tactical Exercise), organizzata dalle forze armate tedesche per promuovere l'addestramento a livello multinazionale nella pianificazione e condotta di operazioni militari integrate tra forze aeree, terrestri e navali.
The event, la cui organizzazione è partita circa un anno fa, coinvolge otto diverse basi aeree tedesche, In addition 4500 militari di undici diverse Nazioni (Germany, Italy, Finland, Greece, Ungheria, Netherlands, Slovenia, Turkey, Cecoslovacchia, più Austria e Svizzera come osservatori), un aereo-radar AWACS of NATO e un centinaio di velivoli tra caccia, elicotteri e aerei da trasporto e da rifornimento in volo. Partecipano all'esercitazione anche due fregate della marina militare tedesca, dislocate nel Mare del Nord, nonché truppe, mezzi terrestri e diversi sistemi di difesa contra-aerea posizionati in vari punti sul territorio.
Nell'esercitazione, che terminerà il prossimo 23 may, si simula un intervento a guida NATO in area di crisi (CRO – Crisis Response Operation), un'opportunità per le Nazioni partecipanti per mettere a frutto le lezioni apprese nelle recenti operazioni aeree, nonché per migliorare il livello di standardizzazione ed interoperabilità con gli altri partners alleati.
Source: The Flight