Aeronautica Militare: presented the logo for 55 years of PAN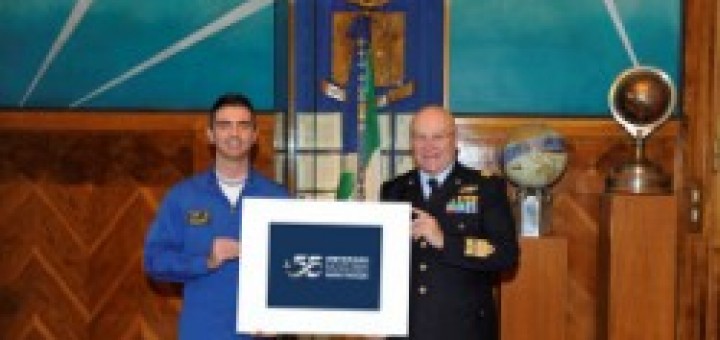 Un'inconfondibile scia tricolore che disegna e sottolinea il cinquantacinque nel cielo, questo il logo creato per festeggiare i 55 anni di acrobazie aeree delle Frecce Tricolori.
"Il disegno," explains a note, "rappresenta il Tricolore in volo nel cielo a cui gli uomini e le donne dell' Aeronautica Militare si affidano con la prospettiva dell'infinito – the number 8 disteso-, per tramandare incessantemente, di generazione in generazione, i valori della patria e la solennità della sua storia."

Il logo è stato presentato dal comandante della National Aerobatic Team (PAN) Jan Slangen, Wednesday, 18 febbraio a Roma, direttamente al capo di stato maggiore dell'Aeronautica Militare, generale di squadra aerea Pasquale Preziosa, e accompagnerà la PAN per l'intera stagione acrobatica 2015 che avrà come momento più significativo la celebrazione di questo importante anniversario sabato 5 e domenica 6 September.

Un compleanno speciale che darà vita ad una manifestazione aerea presso l'aeroporto militare di Rivolto (UD), cui parteciperanno alcune delle pattuglie acrobatiche più prestigiose al mondo e le principali realtà industriali ed aerospaziali italiane. Sarà inoltre allestita una mostra statica con velivoli storici, aerei civili e militari. Un grande evento che terrà tutti con il naso all'insù e il fiato sospeso.
Source: The Flight