Airbus A350 XWB, display at MAKS 2015 in Moscow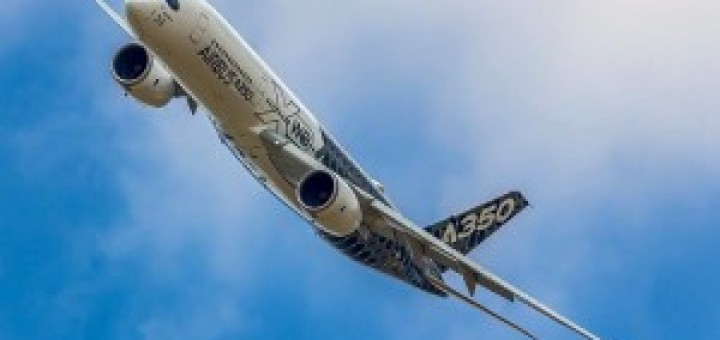 L' The A350 XWB is the last aircraft designed by Airbus. AND' an airliner, twin-, low wing, and made for the 53% in composite materials based on FdC (CFRP – Carbon Fibre Reinforced Parts), the 14% from titanium, the 6% from steel and the 19% from aluminum or aluminum-lithium alloy. The A350 XWB incorporates the most advanced knowledge in terms of aerodynamics, design, In addition to technologies with the aim of providing a savings of 25% in fuel consumption compared to current competitors in the same category (as the Boeing 777).
The acronym XWB, Extra Wide Body, indicates that the fuselage is wider than the other models, as the A330 and A340, and compared to its rival "" the Boeing 787 Dreamliner. Often the models XWB are also known as "double corridor" because the fuselage – stay away from 5 to 6 m – allows the creation of 7-10 adjacent places strand on double corridor.
Initially the project of the A350 was to resume the A330 and A340, but in July 2006 Airbus decided to redesign it by extending the fuselage to meet the demands coming from new potential customers. This project has increased the final costs (the budget for development has increased from approximately 3,5 to 9,5 billion euro) and did slip the date of the first flight, on 14 June 2013. The first delivery 14 December 2014 for Qatar Airways. The latest is that of Finnair, We told you about a few days ago.
The Airbus A350 XWB has two-generation Rolls-Royce Trent XWB engines. It is currently available different versions: A350-800 (276 posts), A350-900 (315 posts) and A350-1000 (369 posts). AND' the first airliner to be certified for ETOPS operations over the 180 minutes. ETOPS is an acronym for Extended-range Twin-engine Operational Performance Standards (Full range operation twin-engine performance parameter), and it is a twin-engine aircraft commercial certification allowing to travel routes such as to be able to find (in some places) at a distance greater than 60 minutes into the flight from the nearest airport, with an engine inoperative. L' EASA (European Aviation Safety Agency) certified A350-900 for ETOPS 180 minutes basic version, with the possibility of extending to 370 minutes. It means that the A350 is capable of flying up to 4,5 hours with a single motor.
In August our friends to Flight Video & Photo were present at MAKS 2015 in Moscow and achieved this spectacular footage of the A350-900, which he performed for the first time in public, demonstrating all its maneuverability. Makes a certain effect see a giant "" with almost 70 meter wingspan hover in the air with such agility!
To controls the test pilot Frank Chapman.
Video: HTTPS://www.youtube.com/watch?v = XF42mPL73LA
The post Airbus A350 XWB, display at MAKS 2015 Moscow appeared first on From The Skies.
Source: From the skies