Britihs Airways celebrates the GREAT Festival of Creativity of Shanghai with a 777 in special livery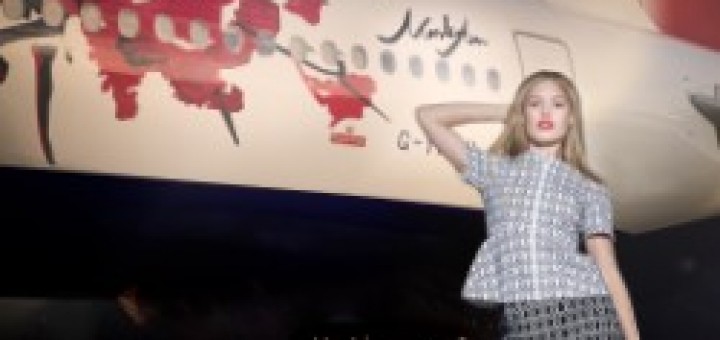 Nasce una nuova livrea per uno dei Boeing 777 of British Airways, firmata dalla famosa fashion designer Masha Ma per celebrare l'apertura del GREAT Festival of Creativity di Shanghai, che avrà come ospite d'onore il Principe William.
Speciale testimonial del lancio la super top model inglese Georgia May Jagger, che per l'occasione ha indossato uno degli abiti della stilista dalla collezione primavera/estate 2015, presentata sulle passerelle della Parigi Fashion Week, donando una nota particolarmente glamour allo shooting d'inaugurazione del nuovo design del velivolo.
The plane, ora denominato "GREAT", ha solcato i cieli cinesi per la prima volta ieri, prima di atterrare nell'aeroporto di Shanghai esibendo l'artistico disegno che lo decora: un intreccio armonico e creativo di rose e bambù, in una fusione di simboli e stili in cui l'Est incontra l'Ovest, realizzato grazie alla partnership fra British Airways e la stilista Masha Ma.
Il team degli ingegneri che ha lavorato al progetto si è avvalso di speciali tecniche per dipingere l'aeromobile con i disegni di Ma, che combinano lo stile impressionista occidentale alla tecnica pittorica cinese shuimohua. Il disegno ha richiesto un impegno di oltre 2000 hours, con l'applicazione di circa 186 stencil, e solcherà i cieli di tutto il mondo.
"I bamboo e le rose hanno delle connotazioni culturali molto significative rispettivamente in Cina e in Regno Unito, e sono entrambi dei simboli molto amati. Nella cultura cinese il bamboo rappresenta la modestia, l'integrità e la vitalità. In Inghilterra, Instead, la rosa rappresenta l'amore, la nobiltà e la dignità," ha detto Ma, che ha studiato presso il famoso College delle Arti "Central Saint Martins" di Londra. "Poiché i legami fra la Cina e l'Inghilterra continuano a sbocciare e fiorire, ho sentito che l'incontro fra la rosa e il bamboo sarebbe stato un ottimo modo per celebrare il rafforzarsi dell'amicizia e della collaborazione fra le due nazioni."
Source: The Flight