Bronco and Bird Dog in training to Fly Party 2016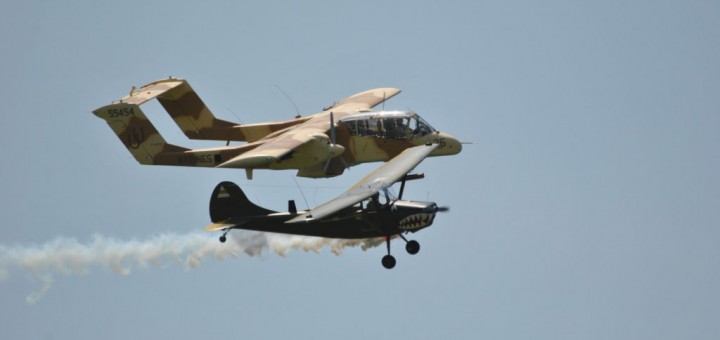 L'edizione 2016 del Fly Party ha riservato molte sorprese, come vi abbiamo già documentato nel reportage "Fly Party 2016, show in the heavens in Montagnana!"
In molti erano a Montagnana per assistere alle evoluzioni di questa insolita coppia: il North American Rockwell OV 10B "Bronco" e il Cessna O-1E "Bird Dog"
Il North American OV-10 Bronco è un bimotore ad ala alta con compiti COIN (Counter Insurgence, controguerriglia) prodotto negli anni sessanta e settanta. Venne impiegato durante la guerra del Vietnam come osservatore, scorta elicotteri, direzione del tiro d'artiglieria, ricognizione a bassa quota, trasporto leggero ed attacco al suolo. L'abitacolo può ospitare due uomini d'equipaggio in tandem con seggiolino eiettabile, il pilota davanti e l'osservatore dietro. La parte posteriore era dedicata a stiva di carico.
Quello visto a Montagnana era la versione OV-10B del Bronco (F-AZKM), proveniente da Montelimar in Francia. La "B" è una versione prodotta per la Luftwaffe come traino bersagli priva di armamento e carenature laterali e dotata di un sistema di traino in un pod sotto alla fusoliera. La stiva di carico era sostituita da una postazione per l'operatore addetto al traino su un seggiolino girato in direzione posteriore con una cupola trasparente al posto del portellone. Nella cabina c'era solo il pilota.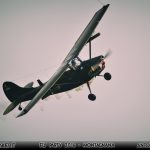 Il Cessna L-19 Bird Dog, ridesignato successivamente O-1 Bird Dog (Observation), è un aereo ad ala alta prodotto negli anni cinquanta. Rivestì diversi compiti come osservazione per artiglieria, comunicazione in prima linea, medevac e addestratore. Fu impiegato anche in Vietnam per la ricognizione ed il forward air control (FAC). Durante la guerra in Vietnam ne furono persi 469.
A Montagnana erano presenti diversi L-19, in differenti versioni. Quello che vediamo nel video insieme al Bronco è il Cessna O-1E Bird Dog "Mekong Mauler" (I-BDOG) di Andrea Rossetto, Presidente dell'Associazione HAG – Historical Aircraft Group Italy.
Ecco il video del passaggio in formazione del Bronco e Bird Dog, realizzato da Flight Video & Photo
Video: HTTPS://www.youtube.com/watch?v=Zi9VSP-8QOo
The post Bronco e Bird Dog in formazione al Fly Party 2016 appeared first on From The Skies.
Source: From the skies