Chapman Freeborn and Volga-Dnepr made an exceptional transport for a rotor from 28 tons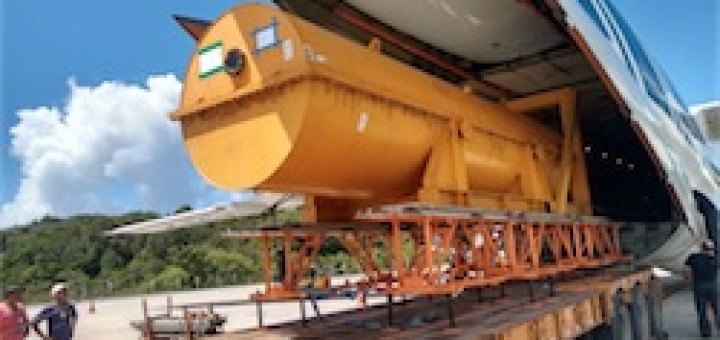 Chapman Freeborn Airchartering and Volga-Dnepr Airlines hanno collaborato nella consegna, from Switzerland to Brazil, a rotor from 28 tonnellate con un velivolo cargo Ilyushin-76TD-90VD della compagnia aerea russa. Il volo è decollato dall'aeroporto di Zurigo a quello brasiliano di Salvador. Gli specialisti di Chapman Freeborn in Brasile hanno coordinato questa delicata operazione che ha richiesto speciali esenzioni per consentire le autorizzazioni doganali durante il fine settimana.

I load master di Volga-Dnepr e i colleghi di Chapman Freeborn hanno gestito le operazioni per caricare l'enorme rotore sull'aereo, usando una speciale gru appositamente ingaggiata per questo progetto.

Maria Faria, country manager di Chapman Freeborn in Brasile, he said:
"il nostro charter team ha lavorato con una tempistica estremamente ridotta e siamo felici di aver eseguito con successo l'operazione per il nostro cliente. Vorrei inoltre ringraziare Volga-Dnepr per il suo supporto nel redere possibile la consegna puntuale."

"Grazie al nostro eccezionale lavoro di squadra siamo riusciti a risolvere un'altra sfida a beneficio di uno dei nostri cliente chiave e di più lunga durata. In qualità di esperto nei trasporti ad hoc, Volga-Dnepr ha fornito la soluzione adatta per soddisfare le esigenze del cliente: abbiamo immediatamente siglato gli accordi volo ed effettuato il carico e lo scarico del singolo pezzo usando le nostre speciali apparecchiature sviluppate in house," ha commentato Alexander Kartashov, Key Account Executive of Volga-Dnepr Airlines.
Source: The Flight