Delta Air Lines is promoting the Day of Hope to support the fight against cancer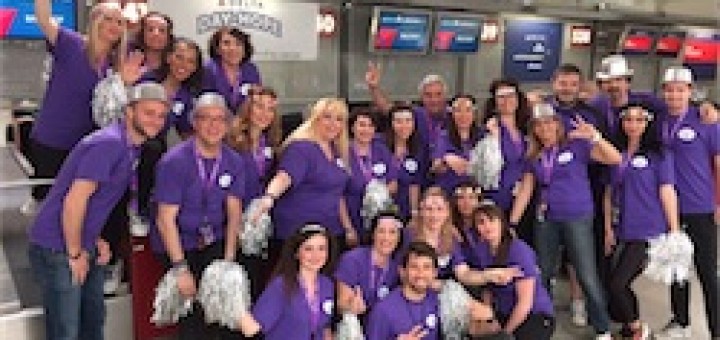 Questa mattina il personale Delta Air Lines dell'Rome Fiumicino airport and dell'aeroporto di Venezia Marco Polo ha accolto i passeggeri in partenza in modo inusuale, intrattenendoli con una danza flash-mob presso l'area check-in ed imbarco dei voli per gli Stati Uniti. Il corpo di ballo, composto dagli agenti aeroportuali, dagli addetti alla manutenzione e dal personale sales & marketing di Delta, si è esibito nella giornata "Delta Day of Hope" per raccogliere fondi a favore dell'American Cancer Society.
I festeggiamenti, in Rome, proseguiranno nella giornata di venerdì presso il parco divertimenti di Rainbow MagicLand, che ha collaborato con Delta nell'organizzazione di uno spettacolo di beneficienza a teatro con artisti e comici.

"Un aspetto fondamentale della cultura Delta è quello di restituire qualcosa alle comunità dove operiamo" ha detto Christine Marchand-Pardo, director airport customer service EMEA. "Con l'organizzazione di eventi di raccolta fondi per la ricerca contro il cancro non solo possiamo migliorare l'esperienza dei nostri passeggeri in aeroporto, ma – cosa ancora più importante – possiamo continuare a sostenere una importante campagna globale".

Il Day of Hope di Delta si ispira al "Relay for Life" dell'American Cancer Society, ma porta il divertimento e le attività direttamente all'interno degli aeroporti. Oltre a Roma e Venezia, about 100 aeroporti nel mondo partecipano all'iniziativa. Fra i tanti: Madrid, Tokyo Narita, London, Boston e Minneapolis. Un numero di attività volte alla raccolta di fondi è inoltre pianificata alla base Delta di Atlanta durante tutto il corso di questo mese. L'obiettivo è quello di raccogliere 1,5 millions of dollars. Lo scorso anno il personale e i passeggeri Delta hanno donato 1,3 millions of dollars.
Source: The Flight