Eurofighter Typhoon della RAF sorvolano la portaerei russa Kuznetsov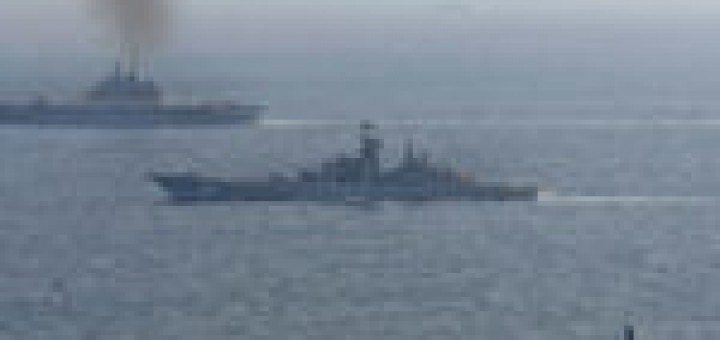 Il gruppo da battaglia russo della Admiral Kuznetsov è in rotta verso la base di Severomorsk nella Russia settentrionale, il suo rientro è previsto per il prossimo 9 February
Yesterday 25 gennaio la portaerei Kuznetsov ha attraversato il Canale della Manica scortata dall'incrociatore a propulsione nucleare Pyotr Veliky, dalla nave d'assalto anfibio Alexander Shabalin, dalla nave cisterna Lena e dal rimorchiatore Nikolay Chiker. Il gruppo da battaglia sta rientrando in Russia dopo due mesi di operazioni in Siria.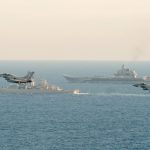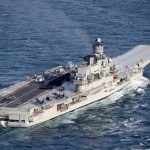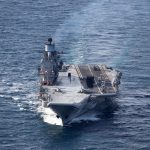 Durante l'attraversamento del Canale della Manica alcuni Eurofighter Typhoon della Royal Air Force hanno scortato il gruppo di battaglia lontano dalle acque inglesi.
Di fatto questa azione di "show of force" da parte della Royal Air Force ha irritato il Ministero della Difesa russo, che con questo comunicato ha criticato il sorvolo dei Typhoon della RAF, invitando Michael Fallon (il Segretario di Stato per la difesa del Regno Unito) ad occuparsi di come spendere al meglio i soldi dei contribuenti, visto che la scorta ed il sorvolo sono costati 1,7 milioni di £.
Sono sette le navi della Nato che scortano a distanza la flottiglia russa, che si presuppone sia scortata a sua volta da almeno un sottomarino d'attacco.
#NATO vessels shadow #Russia 'Admiral Kuznetsov' carrier group back through English channel after #Syria deployment pic.twitter.com/PSRBFHbtdH
— Joseph Dempsey (@JosephHDempsey) January 25, 2017
Nel corso delle operazioni in Siria, durate due mesi, la Kuznetsov ha lanciato 420 sortite, 117 nightly builds, distruggendo 1252 obiettivi nemici identificati. Gli aerei imbarcati sulla portaerei russa che hanno preso parte alle operazioni sono Su-33 e MiG-29K/KUB, ed elicotteri Ka-27, Ka-31 e Ka-52. A causa di guasti tecnici, sono andati persi un MiG-29K ed un Su-33 durante due missioni di volo.
Starting from 2018 la Kuznetsov entrerà in cantiere per dei lavori di ammodernamento che termineranno nel 2021.
The post Eurofighter Typhoon della RAF sorvolano la portaerei russa Kuznetsov appeared first on From The Skies.
Source: From the skies