Final design of South Korea's light aircraft carrier
South Korea's JoongAng Ilbo daily newspaper has obtained a computer rendering of the final design of the light aircraft carrier that Seoul plans to build.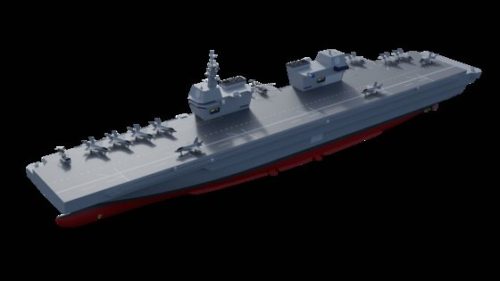 Graphic: RoKN

While sources in the Navy claims that this is not the final design, there will not be much changes to the appearance of the ship in the final form.
The carrier is based on the America-class and British Queen Elizabeth-class. It will not have a ski-jump or well deck like USS America. It will have two islands similiar to the British carrier. While one island is for navigating the ship and the other for flight deck control. The South Koreans are adopting two islands so that one island can still operate the ship if the other is damaged during an attack.
The aircraft elevators are both on the starboard side. This approach was chosen in order to give more space to the flight deck.
The carrier will not have an organic airborne early warning capability, the task force will rely on a destroyer with powerful radar to scan the skies while F-35Bs will provide additional air surveillance coverage if necessary. The daily says this concept mirrors the Italian approach that will be practice on ITS Cavour.
For protection against airborne threats, the ship will be armed with a Close-In Weapons System (CIWS) and the Surface-to-Air Anti-Missile (SAAM) from LIG Nex1.
For more information, hit the Source below