Five ANG F-16s sustained catastrophic damage in Kuwait 2 years ago
The U.S. Air Force has disclosed an accident in Kuwait two years ago that caused catastrophic damage to five F-16Cs from the 148th Fighter Wing, Minnesota Air National Guard.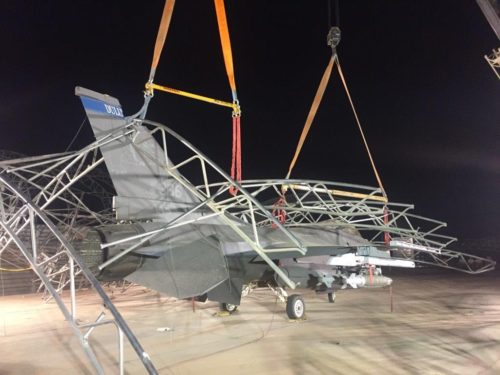 While at Ahmad al-Jaber Air Base, a severe windstorm hit the area and caused sunshades to collapse on seven of the F-16s parked on the flight line. Three of those jets were considered destroyed and palletized for shipment to the 309th Aerospace Maintenance and Regeneration Group (AMARG) at Davis-Monthan Air Force Base. The winds caused the worst battle damage an Air Force or Air National Guard unit had received since 1991 according to the mobile depot field team who assisted after the storm.
Eventually all three F-16s were restored at AMARG with the last jet returning to Duluth on Jan. 6.
For more information, hit the Source below