Fire and brimstone for Belgian F-16 to Airpower16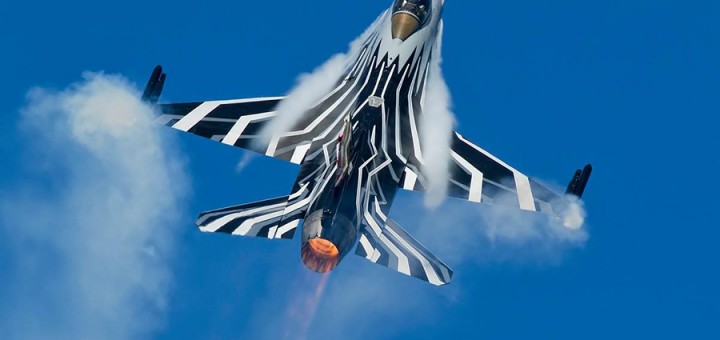 AIRPOWER16 was one of the most anticipated events and interesting in European air show. The audience responded en masse, There were about 300.000 people in Zeltweg (Austria) between Friday 2 and Saturday 3 September.
Among the many performers" We report the Frecce Tricolori, the Flying Bulls, Eurofighter, Rafale, F-18, MIG-29….. and the F-16 of the Belgian Team which we have already met at Dysplay Only addressed to #55PAN. For those who want to see him again here is the video: The extraordinary display of Belgian F-16 in Rivolto
Photo Credit: f-16demo.be
The Belgian F-16, renamed "Blizzard" for his livery, he literally spat fire and flames in the skies of Zeltweg, as you can see from this picture :
Photo Credit: Flight Video & Photo
While performing "Blizzard" was the victim of a compressor stall that spawned the classic cloud of fire as you can see in this movie: HTTPS://www.youtube.com/watch?v = x51UYlumFS8 (minute 3:20).
The stalling of the compressor can result from a disruption of the incoming airflow to the engine. The disturbance can be caused by various factors such as a trim of the aircraft's flight envelope, ingestion of a mass of warm air (as can happen on aircraft carriers), ingestion of a foreign body or birdstrike… This abnormal air flow generates a collapse of compression the compressor and sending stall no longer able to compress air air cons already compressed. Therefore the air mass just ingested follows the reverse path and is ejected from the air intake (in the video looks very good the exhaust air under the nose of the F-16) While the fuel is not burned, the rise of the revolutions of the turbine and the discharge gas temperatures generate flame-out.
Out of this situation the pilot must reduce the revolutions of the turbine, by positioning the throttle in IDLE stop stall and MIL or land as soon as possible, How did Belgian rider. In support of the pilot there are systems that automatically intervene in case of compressor stall.
The hottest performance" than usual!
The post on fire for the Belgian F-16 to Airpower16 appeared first on From The Skies.
Source: From the skies