Future CO of CVN 74 has landed on 6 classes of aircraft carriers
Capt. Cassidy "Dudley" Norman, the next Commanding Officer of USS John C. Stennis (CVN 74), recently trapped and catapult from USS Gerald R. Ford (CVN 78) during his carrier qualification (CQ). The Ford was the sixth class of aircraft carrier that Norman had flown from.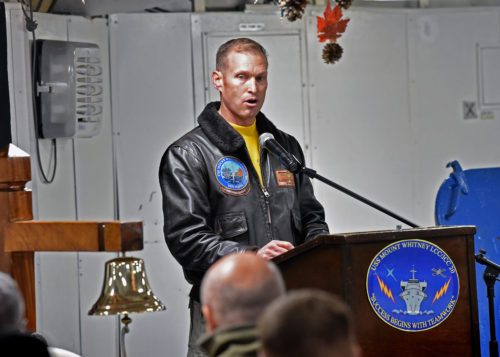 Throughout his naval aviator career, Norman had completed carrier qualifications on Forestall class, USS Independence (CV 62); Kitty Hawk class, USS Kitty hawk (CV 63); Kennedy class, USS Kennedy (CV 67); Enterprise class, USS Enterprise (CVN 65) as well.
"Flying out and landing on the Ford was also exciting because this new class of carrier is a leap forward in many capabilities like the next-generation launching and arresting gear systems, which were immediately apparent on the flight deck," said Norman. "I thoroughly enjoyed landing on and catapulting from the most advanced version of the 11 most survivable airfields in the world."
For more information, hit the Source below