The Pilatus PC-24 completes maiden flight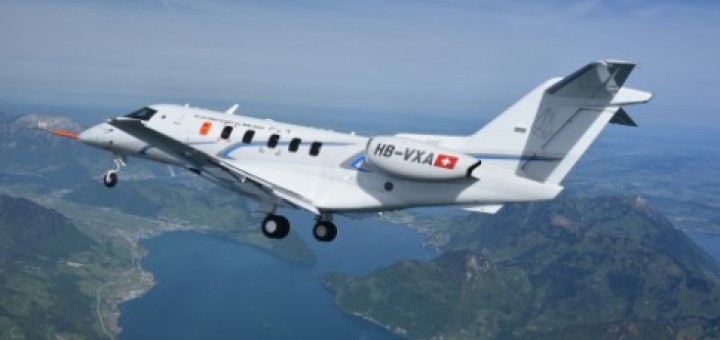 The first Pilatus PC-24 "Super Versatile Jet" è decollato ieri mattina dall'aeroporto di Buochs, in Switzerland, per il suo primo volo. Il prototipo P01, call sign HB-VXA, ha volato per 55 minuti sopra la Svizzera prima di atterrare nuovamente nell'aeroporto in cui hanno sede gli stabilimenti del costruttore elvetico. Il volo è andato così come pianificato e nessun problema è stato riscontrato.
Il jet è decollato dalla pista 07 in soli 600 metri e ha raggiunto i 10 mila piedi (about 3000 m) in tre minuti circa. Una volta in quota i piloti hanno effettuato una serie di test pianificati. Durante il primo volo l'aereo ha seguito la rotta da Altdorf a Brünig via Engelberg. Come avviene spesso nei voli inaugurali, il nuovo jet ha volato con il carrello esteso.
Paul Mulcahy, test pilot con 11 mila ore di volo, ha comandato PC-24 nel suo primo volo con il copilota Reto Aeschlimann. Durante tutto il volo, il PC-24 è stato scortato da un PC-21. Dodici ingegneri e tecnici hanno seguito da terra tutto il volo raccogliendo tutti i dati inviati dall'aereo che saranno utili per la prosecuzione del programma.
Source: The Flight