Flying with the MiG-21 "Fishbed" bulgari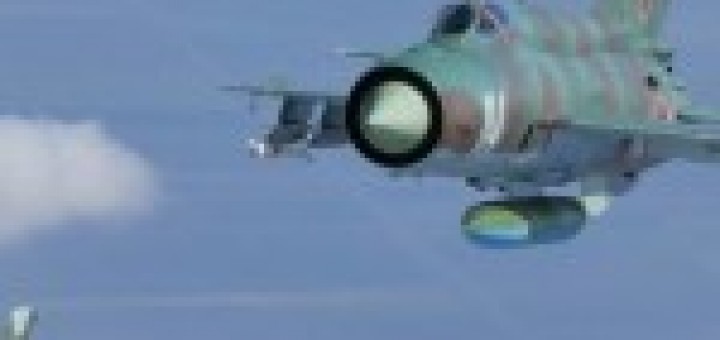 Il Mikoyan Gurevich MiG-21 "Fishbed" è uno degli aerei più conosciuti del periodo post-bellico e Guerra Fredda. Di fabbricazione russa, venne prodotto in più di 13.000 esemplari conquistando il primato di caccia supersonico più diffuso della storia dell'aviazione.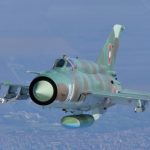 In 1953 la Mikoyan Gurevich fu incaricata dall'Unione Sovietica di realizzare un caccia in grado di contrastare l'F-104 appena adottato dall'USAF. In 1959 entrò in servizio il Type-72, ribattezzato dalla NATO con il nome MiG-21 Fishbed. Dalle forme inconfondibili, ala a delta e presa d'aria sul muso, il Fishbed nacque con una dotazione essenziale: i primi velivoli non erano dotati di radar, e l'armamento era costituito da un cannone da 30 mm e un paio di missili Atoll. I suoi punti di forza erano la maneggevolezza, la potenza del motore (Tumanskij R-11, poi aggiornato con R-25-300), e le ridotte dimensioni che lo rendevano difficile da individuare.
Nel corso degli anni subì numerosi aggiornamenti e fu realizzato in diverse varianti, divenendo un velivolo molto versatile e adatto a diversi compiti. Fu impiegato in alcuni conflitti, come la Guerra di Vietnam dove si rivelò superiori agli F-105 Thunderchief americani, ma inferiore ai nuovi F-4 Phantom e agli F-8 Crusader.
Il MiG-21 è stato adottato da più di 60 countries. In alcuni è ancora in servizio, mentre in altri è stato ritirato. La Cina ha "copiato" il progetto del MiG-21 e dopo averlo aggiornato lo continua a produrre con il nome J-7/F-7, e lo ha utilizzato come base del suo bimotore J-8/F-8.
it 18 dicembre l'aeronautica militare bulgara, the mac13, ha dismesso i suoi MiG-21 dopo 53 years of service. Of 224 MiG-21 ordinati tra gli anni '60 e '90, ne erano rimasti in servizio solo 6 presso la base di Graf Ignatievo che i nostri amici di Flight Video & Photo hanno avuto il piacere di visitare. Saliamo a bordo dell'Alenia C-27J Spartan e gustiamoci queste spettacolari riprese air-to-air dei MiG-21 e Mig-29 (bulgari e polacchi).
Video: HTTPS://www.youtube.com/watch?v=jOHCg5wuOzA
Scheda MiG-21 Aereimiltari.org
The post In volo con i MiG-21 "Fishbed" bulgari appeared first on From The Skies.
Source: From the skies