La Pet Therapy torna all'aeroporto di Genova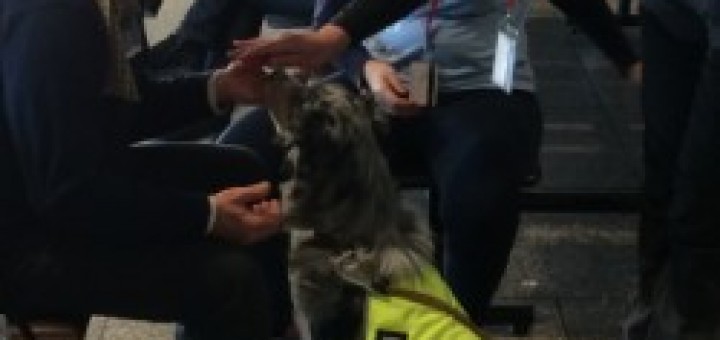 Dopo il successo della prima fase, la Pet Therapy torna all'Aeroporto di Genova. The project, avviato lo scorso 23 dicembre in collaborazione con l'associazione Archi, è andato avanti per tre mesi con due incontri a settimana. Dopo una breve pausa, che ha consentito di fare un primo bilancio dell'iniziativa, gli appuntamenti riprenderanno domenica 3 maggio e saranno inizialmente settimanali per poi tornare a due incontri alla settimana (martedì e domenica) starting from June.
The objective of the project: ridurre lo stress legato al volo e alle attese del viaggio aereo. In tutto sono stati 39 gli operatori e 16 i cani coinvolti nell'iniziativa, che ha riscosso grande successo tra gli utenti dell'aeroporto di Genova.
Secondo alcuni studi il fenomeno dell'aerofobia è diffuso anche tra le persone abituate a utilizzare regolarmente l'aereo come mezzo di trasporto.
"It is about the 40% of passengers," explains Sonia Ragavendran, the Association Bows. "The aerophobia is more common among women than among men. it 33% of those who flew at least once declares to have been afraid, While the 10% delle persone dichiara che non salirà più su un aereo."
Source: The Flight