A thousand lanterns to remember Angelo D'Arrigo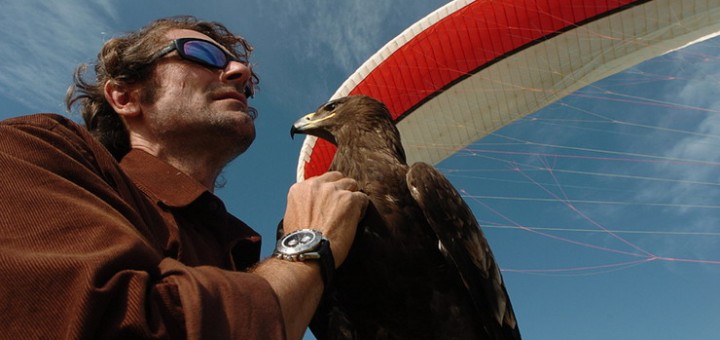 Al tramonto del 26 marzo centinaia di lanterne si alzeranno in volo da tutte le montagne che conobbero le imprese di Angelo D'Arrigo, a partire dall'Etna a due passi da casa sua, fino all'Everest ed all'Aconcagua.
D'Arrigo, nato a Catania e cresciuto a Parigi, fu pilota di deltaplano e di parapendio, mezzi con i quali si pratica il volo libero, cioè senza motore, ma apprese anche a pilotare il deltaplano a motore. Stabilì diversi record e vinse titoli mondiali. Fu un pilota particolare, curioso, attratto più dalla lotta per il superamento dei propri limiti, che non dalla competizione. In un suo libro si legge:
"Spingendo quotidianamente i nostri limiti, riusciamo, a piccoli passi, a superare le paure che ci vietano il possesso della nostra esistenza."
So, rientrato adulto a Catania, si mise in cielo per mettere in pratica i suoi principi, ma non fu un percorso facile. Racconta in un libro di momenti tristi, come l'incidente nel corso di una gara e la prigione di Gheddafi dove fu rinchiuso per aver violato lo spazio aereo libico durante una traversata dalla Sicilia al Cairo in deltamotore.
Angelo d'Arrigo è attualmente detentore dei seguenti record:
Prima traversata in solitario del Mediterraneo in deltaplano a motore

: Catania (

IT

) /

Il Cairo

(

EG

)

Prima traversata in solitario del Sahara in deltamotore

:

Il Cairo

(

EG

) /

Casablanca

(

MA

)

Prima traversata del Sahara in deltaplano

Prima traversata del Mediterraneo in deltaplano

Prima traversata della Siberia in deltaplano

Primo sorvolo dell'Everest in deltaplano

Record di distanza deltamotore no stop

: 1830 miles

Record di altitudine con deltamotore

: 9.100

mt

Record di altitudine con delta idrovolante

: 6.500

mt

Record di velocità ascensionale in deltamotore

Record di altitudine in deltaplano argentina 7.400mt
Amò i rapaci, i grandi veleggiatori ed il loro volo istintivo sui quali compì approfondite ricerche. Condusse una nidiata di gru siberiane dal Circolo Polare Artico al mar Caspio, reintrodusse specie a rischio estinzione nell'Himalaya e in Sud America, aquile e condor allevati, "imprintati", da lui stesso.
Nella galleria del vento studiò il primo deltaplano della storia, la "Piuma" di Leonardo. Percorse il Sahara ed attraversò il Canale di Sicilia, sfiorò la vetta dell'Everest e volò fino a 9000 metri di quota sopra l'Aconcagua. Mezzo preferito per le sue maggiori imprese il deltaplano senza motore, un'ala che si regge in aria sfruttando le correnti ascensionali.
Poi il fatale 26 March 2006 a Comiso. Angelo s'imbarca come passeggero su un piccolo aereo con un pilota esperto ai comandi. Dopo alcune evoluzioni acrobatiche il velivolo si schianta al suolo. Aveva 45 anni ed ancora tanto da dare al mondo del volo libero.
Video: Documentario "Nati per Volare" . L'ultimo progetto di D'Arrigo: reintrodurre una coppia di condor sulle Ande. I due animali, Inca e Maya, che erano i protagonisti del progetto Wings of Condor, erano nati da una coppia di condor in cattività nel laboratorio di biologia del Breeding Center di Vienna. Insegnando loro a volare, grazie a un deltaplano con le caratteristiche aerodinamiche del volo del condor, e a procacciarsi il cibo, Angelo D'Arrigo aveva sperato di poterli riportare di persona sulla Cordigliera delle Ande, ma non ha avuto il tempo di farlo.
Nel decimo anno dalla scomparsa, sul vulcano siciliano teatro delle prime imprese di Angelo D'Arrigo, nella zona dei monti Silvestri, gli sarà dedicata una scultura in pietra lavica, opera dell'artista Luca Zuppelli. La cerimonia è stata voluta dalla Fondazione Angelo D'Arrigo che ha coinvolto il Parco e la Funivia dell'Etna, l'area metropolitana di Catania ed il comune di Nicolosi che ospiterà il monumento. Ci saranno amici, parenti, autorità, la moglie Laura Mancuso, il figlio Gabriele e decine di associazioni culturali, sportive e d'ambientalisti a ricordare il campione. Ci saranno migliaia di lanterne nei cieli di tutto il mondo.
Locandina evento e programma della giornata
Source: Ufficio Stampa FIVL
The post Mille lanterne per ricordare Angelo D'Arrigo appeared first on From The Skies.
Source: From the skies