In 2014 the Aircraft Appearance Centre of Emirates apply 157 fleet aircraft decals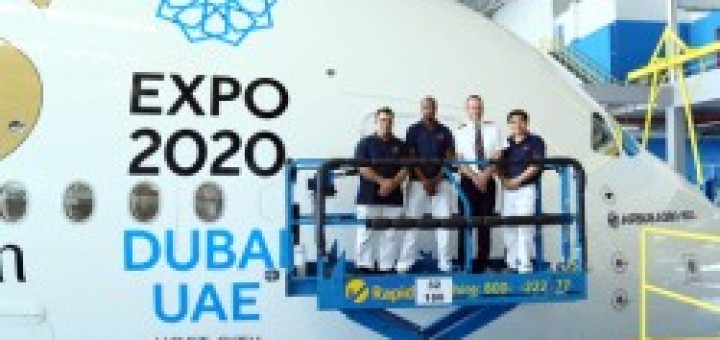 Si è trattato di un anno molto impegnativo per il team Emirates dell'Aircraft Appearance Centre, che durante il 2014 ha completato con successo l'applicazione di 157 decalcomanie sui velivoli della flotta del vettore, con una media di tre lavori completati a settimana.
Quando un nuovo velivolo entra a far parte della flotta Emirates, il team dell'Aircraft Appearance Centre è occupato a lavorare nell'applicazione degli adesivi, come per esempio il logo "World Expo 2020 – Dubai Host City", applicati su tutti i 58 A380 della flotta Emirates. Il più grande adesivo installato, in occasione del Campionato Mondiale di Calcio FIFA 2014, misurava 21 metri di larghezza ed era alto 9.
Nell'Aircraft Appearance Centre di Emirates lavora un team di 14 operai specializzato nell'applicazione delle decalcomanie. L'impianto interno per la produzione delle decalcomanie occupa in un'area di circa 250 metri quadri in cui vengono stampati e applicati i loghi, come quelli per il World Expo 2020, in meno di un'ora con una squadra composta da due persone. Le decalcomanie più grandi e complesse possono richiedere anche 24 ore per essere stampate e applicate.
"È un processo abbastanza dettagliato", afferma Naveed Khan, responsabile dell' Aircraft Appearance Centre, quando gli si chiede come gli adesivi vengano prodotti e applicati sugli aerei.
"In termini di fase di fabbricazione, per prima cosa riceviamo il disegno dalla divisione Corporate Communications, Marketing & Brand. Poi, lo convertiamo in un documento di lavoro e abbiniamo i colori del disegno master all' output di stampa, testando diverse combinazioni. La grafica è poi suddivisa in varie parti o piastrelle in base al supporto di stampa in uso. Finally, è stampato, laminato e tagliato su misura."
Source: The Flight