P-51 Mustang, Me-262 and Spitfire ply the skies of Huston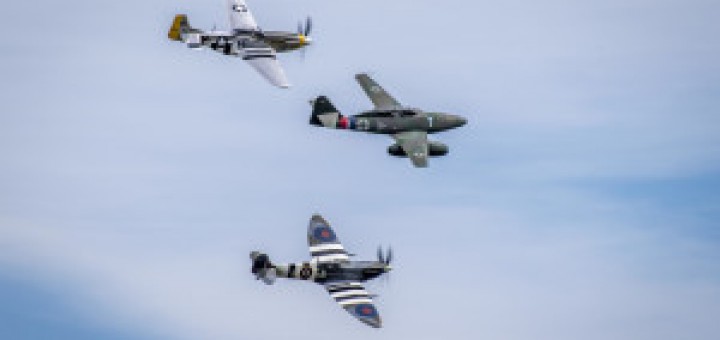 Avete mai visto volare un P-51? uno Spitfire? ed il Me-262?… e tutti e 3 insieme?
Ebbene si, questi 3 velivoli hanno volato insieme – in formazione – the 18 ottobre scorso in occasione del "Wings Over Houston Airshow", un evento realizzato dalla Commemorative Air Force. Fa un certo effetto vedere il "Mustang" americano, lo "Spit" britannico e lo "Schwalbe" (rondine) tedesco volare uno affianco l'altro.
Nel dettaglio i velivoli in formazione sono:
Messerschmitt Me

262

"White 1

" (

replica

,

SW

501241 –

N262AZ

)

della Collings Foundation

Supermarine Spitfire Mk IXC

(

S/N

959 –

N959RT

)

P-51D Mustang "Dakota Kid II

"

della Texas Flying Legend Museum

(

N151HR

)
Video: HTTPS://www.youtube.com/watch?v=9K3Vbsf8po8

it Messerschmitt Me 262 era un bimotore a getto da caccia multiruolo ad ala a freccia sviluppato e prodotto dall'azienda tedesca Messerschmitt AG negli anni quaranta. Impiegato dalla Luftwaffe, l'Aeronautica militare dell'allora Germania nazista durante le fasi finali della seconda guerra mondiale, detiene il primato di essere stato il primo caccia della storia con motore a getto ad entrare in servizio operativo e il primo caccia bireattore. È considerato l'aereo più avanzato utilizzato dai tedeschi, precorritore anche dei jet da combattimento realizzati nell'Unione Sovietica nell'immediato dopoguerra
HTTPS://it.wikipedia.org/wiki/Messerschmitt_Me_262

The Spitfire fu prodotto negli anni trenta e quaranta dalla ditta britannica Supermarine Aviation Works. Impiegato in Europa, Nord Africa, Australia e Asia, divenne uno degli aerei-simbolo della Seconda guerra mondiale soprattutto per il suo efficace e decisivo contributo alla vittoriosa resistenza inglese all'aggressione tedesca, durante la Battaglia d'Inghilterra e gli anni del conflitto. Dopo un lungo e penoso periodo in cui gli inglesi persero quattro caccia per ogni avversario abbattuto, per contrastare gli ultimi formidabili caccia tedeschi (Bf 109F-4 e G inclusi) fu messo a punto il Mk.IX che rappresentò nuovamente una pietra miliare e che fu prodotto in più di 5500 esemplari.
HTTPS://it.wikipedia.org/wiki/Supermarine_Spitfire

Il North American P-51 Mustang, prodotto a partire dal 1941, fu uno dei più versatili caccia statunitensi della seconda guerra mondiale. Fu schierato sia sul fronte del Pacifico che su quello Europeo per contrapporsi agli aerei della Luftwaffe. Fu impiegato prevalentemente come caccia di scorta alle formazioni di bombardieri Boeing B-17, ma anche come caccia bombardiere. Venne impiegato anche nella prima fase della guerra di Corea, nonostante fosse stato ormai superato dai primi aerei con motore a getto. In alcune forze aeree rimase in servizio fino ai primi anni ottanta.
HTTPS://it.wikipedia.org/wiki/North_American_P-51_Mustang
The post P-51 Mustang, Me-262 e Spitfire solcano i cieli di Huston appeared first on From The Skies.
Source: From the skies