Radev, former pilot of MiG-29, wins the presidential elections in Bulgaria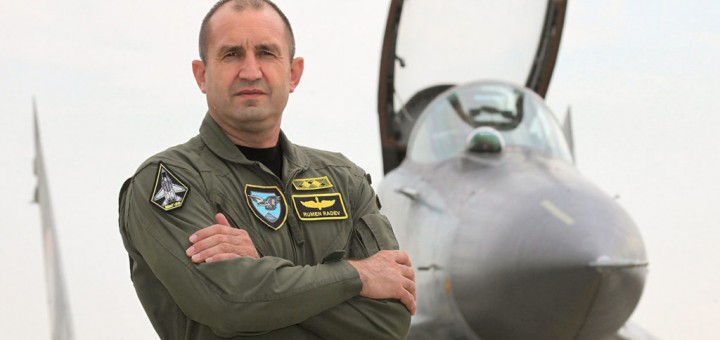 Rumen Radev, 53 years, ex Generale e Capo di Stato Maggiore dell'aeronautica bulgara (the mac13), ha vinto le elezioni presidenziali in Bulgaria con il 58% dei voti.
La sua è una storia molto particolare. Nato nel 1963, ha iniziato la sua carriera nell'aeronautica bulgara nel 1987, arrivando al comando della base di Graf Ignatievo nel 2000, l'unica base dell'aeronautica bulgara che ospita i caccia, suddivisi in due squadriglie. In 2014 diventa Capo di Stato Maggiore dell'aeronautica bulgara, ma non perde il "vizio" di volare.
Infatti il 13 October 2014, in occasione dell'Air Show di Sofia dal nome "This we are!", il Gen. Radev all'età di 51 anni si è esibito ai comandi di un MiG-29, dimostrando tutta la manovrabilità del "Fulcrum" eseguendo anche il Cobra di Pugachev, una manovra molto particolare in cui il velivolo raggiunge un elevato angolo d'attacco. Grazie ai potenti motori, il MiG-29 riesce quasi a fermarsi in aria, mantenendo una quota costante. L'andamento della manovra assomiglia alla classica posizione d'attacco del cobra.
Ecco il filmato dell'air show di Sofia, realizzato dagli amici di Flight Video & Photo
Quella di Radev è stata la prima esibizione pubblica di un MiG-29 in Bulgaria con ai comandi un pilota bulgaro. Il suo intento era proprio quello di mettere in mostra le potenzialità dell'aeronautica bulgara e sottolineare l'importanza di rafforzare la difesa aerea, visto anche il pensionamento dei MiG-21 nel dicembre 2015. Qui un nostro interessante reportage, con filmato air-to-air dei MiG-21: "In volo con i MiG-21 Fishbed bulgari"
Lo stesso Radev aveva sottolineato l'importanza del programma di manutenzione dei MiG-29 che a suo avviso era l'unico modo per risollevare le sorti dell'aeronautica bulgara e garantire il controllo dello spazio aereo nazionale. Il suo programma prevedeva l'acquisizione di alcuni motori RD-33 dalla Polonia per aggiornare i Fulcrum bulgari (ne sono rimasti 12, non tutti operativi). Come progetto a lungo termine, prevedeva l'acquisizione dei Saab JAS 39 Gripen o Eurofighter Typhoon.
L'intento dell'ormai ex primo ministro Borisov era però quello di affidare la difesa dello spazio aereo bulgaro alla NATO così come avviene già in alcuni paesi dell'Est (come già avviene nella Baltic Air Policing – Estonia, Lettonia e Lituania). Ed in effetti lo scorso 6 settembre i primi F-15 USAF hanno affiancato il MiG-29 bulgari per le missioni di ricognizione.
Essendo in disaccordo con il primo ministro Borisov , il Gen. Radev aveva già rassegnato le dimissioni ad ottobre 2015, ritirate dopo che Borisov aveva promesso di destinare 40 milioni di euro all'aeronautica bulgara. Ma ad agosto 2016 Radev ha rassegnato definitivamente le dimissioni per poi candidarsi alle elezioni presidenziali che si sono concluse ieri, 13 November 2016, vincendole con il 58% dei voti.
Radev ha sottolineato più volte di non essere contro la collaborazione con la NATO per i servizi di air policing, ma si è sempre opposto all'idea che la Bulgaria dovesse pagare altri Paesi per il controllo del proprio spazio aereo, senza concentrarsi sul mantenimento e sviluppo della propria forza aerea.
The post Radev, former pilot of MiG-29, vince le presidenziali in Bulgaria appeared first on From The Skies.
Source: From the skies