Roll-out of the first Antonov AN-178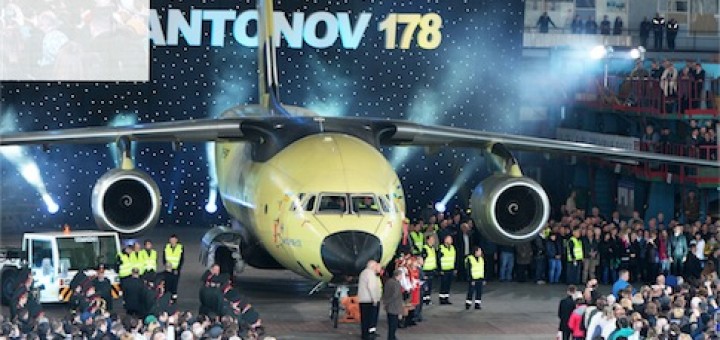 In recent days Antonov ha completato la costruzione del primo AN-178, il nuovo velivolo da trasporto del costruttore ucraino. Con questo primo esemplare costruito, Antonov inizierà il programma di test che porteranno alla certificazione del nuovo velivolo. Basato sull'esperienza di Antonov nella costruzione di velivoli da trasporto l'AN-178 rappresenta un'ulteriore evoluzione del programma di velivoli regionali AN-
148/AN-158 il cui sviluppo è iniziato nel 2004 con l'AN-148-100 per il trasporto di passeggeri su rotte regionali.
La decisione di avviare il programma AN-178 è stata presa sulla base di una stima della domanda globale. Durante la progettazione dell'aereo, i requisiti dei clienti civili e militari (tra cui il ministero della difesa ucraino) sono stati alla base del lavoro degli ingegneri portando al design di un aereo che rappresenta un sostituito naturale dell'AN-12, il velivolo turboprop di Antonov prodotto in oltre 1.400 esemplari e tuttora molto diffuso nei paesi ex sovietici, in Africa e in Asia. Con questo prodotto inoltre Antonov guarda anche al mercato occidentale dove la sostituzione dei velivoli C-160 potrebbe rappresentare un'opportunità di mercato interessante per il nuovo velivolo.
Con consumi di carburante sostanzialmente equivalenti a quelli dell'AN-12 ma con una produttività nettamente superiore dovuta alla maggiore velocità (+35%) rispetto al suo predecessore turboprop, l'AN-178 potrà volare a quote più alte e sarà perfettamente conforme agli ultimi standard di aeronavigabilità.
Source: The Flight