Sukhoi Su-34, the new Russian fighter-bomber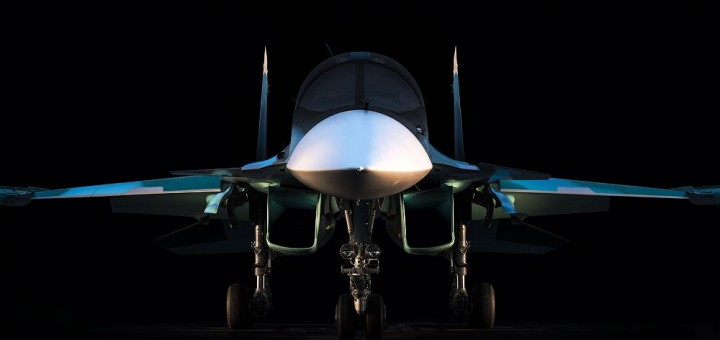 The Sukhoi Su-34, Nato designation "Fullback", is a Russian fighter-bomber , twin-e biposto, destinato a sostituire il Sukhoi Su-24. Appartiene alla generazione "4+", la stessa dell'Eurofighter Typhoon, Rafale e F-15.
Il progetto iniziale risale al 1990, e rappresenta una delle più grandi imprese realizzate dalla Sukhoi. Series production began in 2006, è entrato in servizio a partire dal 2014.
Nasce dalla base del Sukhoi Su-27 'Flanker', ed è stato progettato principalmente per l'impiego tattico contro obiettivi terrestri e navali. Per questo è dotato di:
radar W004 e W005

,

per l'inseguimento degli obiettivi al suolo e per il volo automatico a bassa quota

sistema Kibiny L175W per le contromisure EW

(

Electronic Warfare

)

sistema di navigazione assistito da GPS e GLONASS

sistema di puntamento Platan dotato di telecamera e puntatore laser

può trasportare complessivamente fino ad

8 000

chilogrammi di armi disposte sotto i dodici punti di attacco

corazza in titanio di

17

millimetri che pesa complessivamente

1,48 tons
Nella configurazione per il combattimento aereo il Su-34 può essere armato con sei missili aria-aria AA-10 Alamo, con otto missili a medio raggio AA-12 Adder o R-73M2 (AA-11 Archer). Per quanto riguarda invece l'armamento per combattere obbiettivi terrestri il Su-34 può utilizzare sei missili del tipo AS-14 Kedge, Kh-25ML, razzi S-25LD o bombe guidate del tipo Kab-500Kr e Kab-500L. Inoltre può essere dotato di sei missili antinave Kh-31A, Kh-41 o Kh-35U o in alternativa sei missili anti-radiazione del tipo Kh-31P.
Ognuno dei suoi due motori turbofan Lyulka AL-31FM1 genera una spinta di 29.762 lbf, permettendo all'aereo di raggiungere una velocità massima di Mach 1.8 (2200 km/h) ad alta quota e di Mach 1.2 (1400 km/h) al livello del mare, con un'autonomia di 1100 km ed una quota di servizio di 15.000 m (49.200 feet).
Pur essendo un'evoluzione del Su-27, il Su-34 ha dimensioni maggiori ed è dotato di ali canard per migliorarne la manovrabilità. A tutta questa tecnologia si aggiungono delle peculiarità che riguardano soprattutto la cabina di pilotaggio, che rende questo velivolo differente dagli altri della sua stessa tipologia:
due posti affiancati

,

dotati di seggiolini eiettabili NPP Zvezda K-36dm

cabina pressurizzata fino a

10.000 m

cabina di dimensioni ampie che consentono agli occupanti di alzarsi in piedi

i piloti dispongono di un Helmet Mounted Display System

(

HMDS

),

un casco dotato di visiera dove vengono proiettate tutte le informazioni in tempo reale

una toilette e una cambusa si trovano dietro i sedili dell'equipaggio
Attualmente è il caccia più moderno ed avanzato ad essere impiegato dalla Russia in Siria. Ne sono stati schierati 6 presso la base di Latakia e svolgono il compito di attacco al suolo da alta quota con armamento di precisione KAB-500S-E.
Il Su-34 viene prodotto negli stabilimenti della Novosibirsk Aircraft Production Association, conosciuta ora come V.P. Chkalov, presso l'impianto di Novosibirsk, dove vengono prodotte anche alcune parti del Sukhoi Superjet 100. Ecco una serie di foto molto interessanti della catena di montaggio del Su-34. Foto di: http://gelio.livejournal.com/211509.html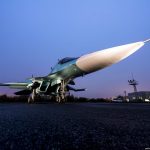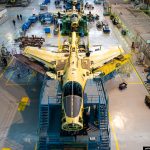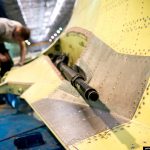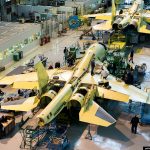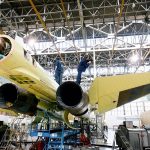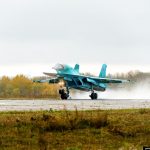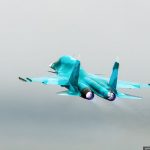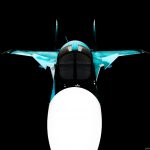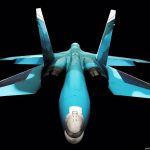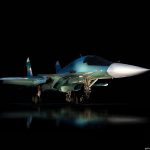 The post Sukhoi Su-34, il nuovo caccia bombardiere russo appeared first on From The Skies.
Source: From the skies