Unveiled Stratolaunch, the largest aircraft in the world
Yesterday 31 may 2017 lo Stratolaunch è uscito per la prima volta dall'hangar dello spazioporto di Mojave (Calfornia).
Stratolaunch è l'aereo più grande mai costruito. Le sue dimensioni superano anche quelle dell'Antonov AN-225 che abbiamo incontrato un anno fa a Malpensa, e quelle dello Hughes H-4 Hercules che da circa 70 anni deteneva il record di velivolo con apertura alare più grande di sempre.
Stratolaunch ha due fusoliere, apertura alare di 117 m, 28 ruote e sei motori di Boeing 747 (Pratt & Whitney PW4056), avrà un equipaggio di tre persone.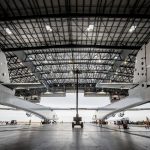 AND' stato progettato con lo scopo di trasportare e lanciare i satelliti in orbita da una quota di 9000 m; è una piattaforma mobile di lancio. Il peso massimo al decollo è di circa 590.000 Kg, con un carico utile di 250.000 Kg. Il carico sarà agganciato nella parte centrale del velivolo, tra le due fusoliere.
AND' stato ideato dalla Stratolaunch System, azienda fondata dal miliardario e cofondatore di Microsoft Paul Allen, e realizzato da Scaled Composites, azienda già nota per aver partecipato ai progetti SpaceShipOne e Two di Virgin Galactic. Il progetto ha assunto il nome di Scaled Composites Model 351, soprannominato "Roc".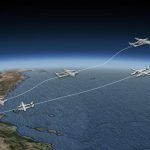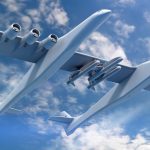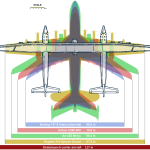 Il gigante dei cieli dovrebbe effettuare il primo volo dimostrativo entro il 2019.
Lanciare i razzi per trasportare i satelliti in orbita attraverso Stratolaunch offre una serie vantaggi non indifferenti. Prima di tutto il lancio avverrebbe già da una quota di 9.000 m, evitando tutte le problematiche legate alle condizioni meteo e soprattutto avverrebbe da un aereo riutilizzabile, senza dover utilizzare una piattaforma di lancio a terra bensì un aeroporto. Con notevole risparmio di costi.
Photo: Scaled Composites e Stratolaunch
The post Svelato Stratolaunch, l'aereo più grande del mondo appeared first on From The Skies.
Source: From the skies