Tecnam evaluates development and a two-seater jet for military training and General Aviation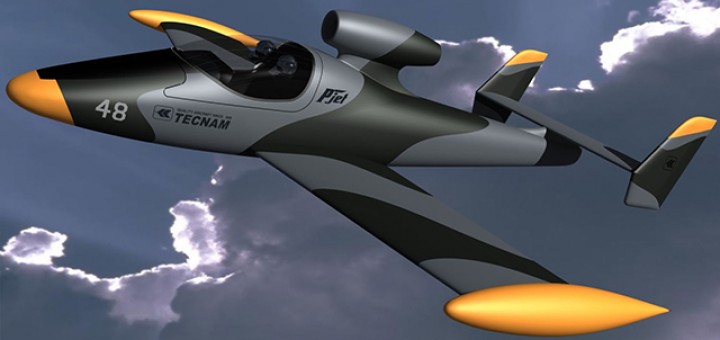 Tecnam ha annuncaito oggi che sta valutando attivamente lo sviluppo e la produzione di un jet biposto.
"Come sempre gli sviluppi innovativi di Tecnam sono guidati dalla domanda dei clienti," afferma una nota del costruttore italiano. "AND' stato mostrato un forte interesse per l'introduzione di un velivolo a jet biposto (coi sedili affiancati) da destinare per le organizzazioni di addestramento al volo militari ma anche per offrire un velivolo più veloce ed efficiente per l'aviazione privata e d'affari. Il 'P JET' sarà indubbiamente un game-changer non solo nel settore dell'aviazione generale ma anche un addestratore primario a getto per il settore militare. La ricerca iniziale di Tecnam suggerisce come la costruzione di questo velivolo visionario risuti essere fattibile sia tecnicamente che economicamente. Il rimarchevole progresso nello svilppo e l'affidabilità dell'efticienza termica e meccanica ora possibile nei motori turbofan two-spool ad alto bypass, assieme ad altri importanti progressi nei materiali, consentono che la produzione del 'P JET' sia un progetto fattibile."
La configurazione del velivolo anticipata dal costruttore vede una soluzione in cui motore sarebbe inserito in un apposito pod nella parte superiore della fusoliera per massimizzare l'efficienza e ottenere l'effetto full ram-air intake, senza creare interferenze sulle struttura primaria dell'aereo e facilitando l'ispezionabilità e la manutenzione. Altre caratteristiche chiave del progetto incudono uno stabilizzatore verticale a doppia coda, il cui effetto di schermatura alla superficie orizzontale aumenta (a parità di superficie esposta) il potere di controllo e la stabilità dell'aereo. Tecnam ha inoltre anticipato che la cabina del 'P JET' sarà disponibile sia in versione pressurizzata che non pressurizzata. Lo sviluppo dell'aereo verrà basato sull'ottenimento della certificazione CS-23 e FAR 23.
Source: The Flight