A Mc Donnell Douglas MD-82 coming to Volandia!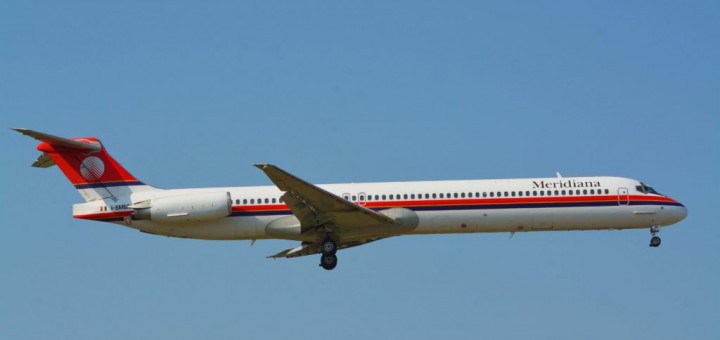 A new gem is going to enrich the collection of Volandia. Si tratta del Mc Donnell Douglas MD-82 I-SMEL di Meridiana.
Today 14 novembre I-SMEL è decollato da Olbia alle 8:20 ed è atterrato a Malpensa intorno alle 9:00, dove resterà parcheggiato su una piazzola per qualche giorno per essere predisposto all'esposizione presso il Parco e Museo del Volo di Volandia a Somma Lombardo, adiacente all'Aeroporto di Milano-Malpensa, negli edifici delle storiche Officine Aeronautiche Caproni fondate nel 1910.
I-SMEL fu il primo esemplare di MD-82 della flotta Meridiana (allora Alisarsa come HB-IKK), entrò in servizio nel 1984, quando arrivò direttamente da Long Beach a Olbia. Nel corso del tempo ha accumulato oltre 56.000 flight hours.
"And' con grande soddisfazione – ha detto il presidente di Volandia, Marco Reguzzoni – che annuncio la buona, anzi ottima riuscita dell'accordo con Meridiana che ha portato ad arricchire la collezione del nostro museo di un gioiello come l'MD 80. E di questo voglio ringraziare pubblicamente Meridiana e il suo presidente per aver scelto Volandia come sede in cui esporre uno dei fiori all'occhiello della compagnia, nonché primo in assoluto della flotta, a dimostrazione di quanto il nostro museo stia diventando sempre più punto di riferimento per l'intero settore, anche per le macchine di grandi dimensioni. Non dimentichiamo infatti che l'aeromobile in arrivo lunedì affiancherà il Dc 9 presidenziale, che oltre ad aver trasportato alcuni Presidenti della Repubblica, fra cui Sandro Pertini, è stato anche l'aereo di Papa Woytila".
Grande soddisfazione anche per il presidente di Meridiana Marco Rigotti: "Volandia ha fortemente desiderato ospitare il primo Super 80 entrato nella flotta di Meridiana. Siamo orgogliosi di contribuire all'entusiasmante progetto di Volandia e per questo siamo grati al presidente Reguzzoni".
Una curiosità: Meridiana ha "venduto" l'MD-82 a Volandia per la cifra di 1 euro + iva. Un bel gesto.
The post Un Mc Donnell Douglas MD-82 in arrivo a Volandia! appeared first on From The Skies.
Source: From the skies