Flies the Aermacchi M-345HET, the successor of the MB-339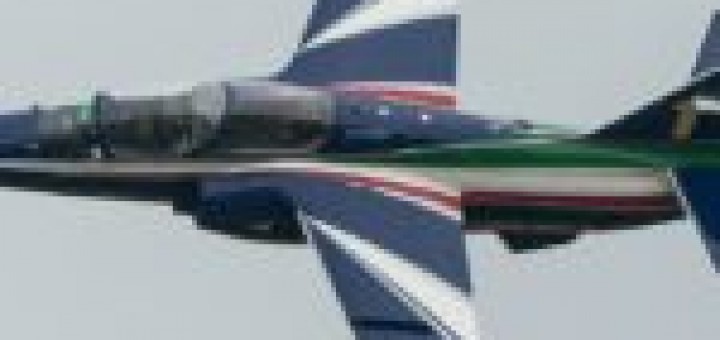 L'Aermacchi M-345HET, il nuovo addestratore progettato da Leonardo-Finmeccanica, ha effettuato il suo "primo" volo. Within the 2017 saranno completati i test necessari per poi passare alla produzione.
Questo il comunicato:
Il prototipo del nuovo velivolo biposto da addestramento basico Aermacchi M-345HET (High Efficiency Trainer), ha effettuato con successo il suo primo volo giovedì 29 Dicembre, dall'aeroporto di Venegono Superiore (Varese). Ai comandi del velivolo i piloti della Divisione Velivoli di Leonardo, Quirino Bucci e Giacomo Iannelli.
Quirino Bucci, Project Test Pilot Trainers della Divisione Velivoli di Leonardo, ha espresso grande soddisfazione al termine del volo durato circa 30 minutes. Il com. Bucci ha così commentato: "Il velivolo si è comportato perfettamente confermando le attese previste dai parametri progettuali ed esprimendo performance eccellenti. Il motore, in particular, ha dimostrato un'ottima reattività alle variazioni di regime, caratteristica fondamentale per un velivolo da addestramento basico".
L'M-345 è il nuovo velivolo a reazione per l'addestramento dei piloti militari progettato da Leonardo. Caratterizzato da bassi costi di acquisizione e gestione, l'M-345 mira a offrire alle forze aeree di tutto il mondo le superiori prestazioni e l'efficacia addestrativa tipiche degli aerei a getto a costi comparabili a quello dei velivoli da addestramento a turboelica di elevata potenza.
La campagna di prove sarà completata entro il 2017. I prossimi test riguarderanno gli avanzati sistemi di bordo e l'integrazione motore all'intero inviluppo di volo della macchina, in termini di quota, velocità e capacita' di manovra.
Il progetto dell'M-345HET nasce sulle ceneri del S-211 sviluppato dalla SIAI-Marchetti per partecipare al concorso JPATS negli anni '90. Effettuò il primo volo il 10 April 1981, ma non ebbe molto successo, ne furono venduti alcuni esemplari alle forze aeree di Filippine e Singapore. Una volta dismessi, furono acquistati da alcuni privati, alcuni sono in Italia, altri negli USA e Australia.
Il progetto S-211 viene ripreso da Alenia Aermacchi con il nome di M-311, per poi essere ridesignato a M-345, e nella nuova versione M-345HET.
Trovate molti altri dettagli in un nostro precedente articolo:
Frecce Tricolori: addio MB-339, arriva l'M-345 HET!
Per fare un breve riepilogo di quanto già sappiamo, l'Aermacchi M-345HET sarà il successore dell'Aermacchi MB-339, attualmente in dotazione all'Aeronautica Militare con il ruolo di addestratore basico. AND' in dotazione anche alla Pattuglia Acrobatica Nazionale "Frecce Tricolori" nella versione MB-339PAN.
Ecco la timeline degli eventi:
June 2005 –

Primo volo dell

'

Aermacchi M-311

March 2012 –

L'Aermacchi M-311 viene ridesignato come M-345

September 2013 – Defense Minister,

Mario Mauro

,

annuncia che le Frecce Tricolori avrebbero sostituito l'MB-339PAN con l'M-345 entro il

2017 (link)
June 2013 –

Il Ministero della Difesa sigla un accordo con Alenia Aermacchi per definire congiuntamente le specifiche operative e per collaborare allo sviluppo di un nuovo velivolo da addestramento basico-avanzato

,

denominato M-345 HET

(link)
July 2014 –

Apparizione pubblica dell'M-345 che vola al Farnborough Airshow

2014 (link)
July 2014 –

Il Com.te delle Frecce Tricolori

,

Jan Slangen

,

vola su M-345HET

(link)
November 2014 – The State Secretary for Defense,

il generale Domenico Rossi

,

afferma che la la sostituzione dei

339

con i

345

non è prioritaria

(link)
October 2014 –

Siglato accordo tra Alenia Aermacchi e Williams International per la fornitura dei motori FJ44-4M per il M-345HET

(link)
June 2015 –

Leonardo-Finmeccanica ha proposto l'M-345HET alla Francia per sostituire i Dassault-Breguet/Dornier Alpha Jet

(link)
March 2016 –

L'Aeronautica Militare conferma l'approvazione di un ordine per l'acquisizione di alcuni M-345HET

(

secondo alcune fonti

,

il primo lotto è di

5 aircraft)

per sostituire il

339.

Conferma che il

345

vestirà la livrea Frecce Tricolori

. (link)
December 2016 –

Primo volo dell'Aermacchi M-345HET
La scheda tecnica dell'M-345HET
M-345HET
Dimensioni
Apertura alare 8,47 m (27.78 ft)
Lunghezza 9.85 m (32.32 ft)
Altezza 3.74 m (12.27 ft)
Superficie alare 12.6 sqm (135.6 sqft)
Pesi
Decollo (Trainer) 3,300 kg (7,275 lb)
Decollo (maximum) 4,500 kg (9,920 lb)
Motore
Turbofan Williams FJ44-4M-34
Spinta massima 1,540 kg (3,400lb)
Carburante interno 700 kg (1,545 lb)
Performance (configurazione pulita, ISA)
Velocita max (SL/20 kft) 380/420 KTAS
Velocità limite 400 KEAS / 0.8 MN
Velocità di stallo (configurazione atterraggio, 20% carburante) 88 KCSA
Rateo di salita (SL) 5,200 ft/min
Quota tangenza operativa 40,000 ft
Distanza di decollo / atterraggio (SL) 520 m (1,720 ft)
Autonomia max. 760 NM (1.410 miles)
Autonomia con 2 serbatoi esterni – 10% riserva) 1,000 NM (1.850 miles)
Photo: Leonardo-Finmeccanica (2014)
The post Vola l'Aermacchi M-345HET, il successore dell'MB-339 appeared first on From The Skies.
Source: From the skies