Volotea passes the milestone of 4 million passengers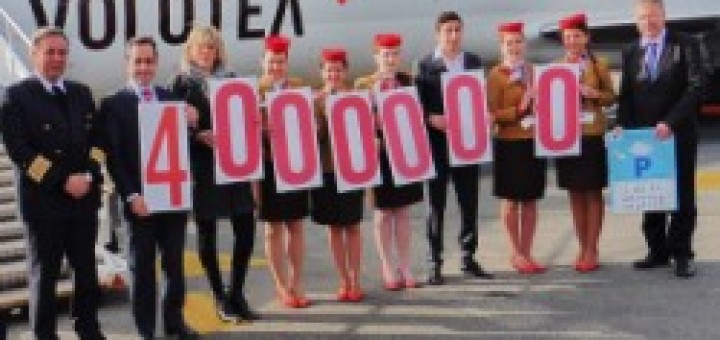 Volotea ha infranto il tetto dei 4 million passengers at European level. E proprio ieri, at l'aeroporto di Nantes, è stata organizzata una speciale cerimonia per premiare Florence Hugon, rappresentante di prodotti cosmetici naturali originaria del dipartimento di Maine et Loire, e quarta milionesima passeggera in Europa ad aver scelto Volotea per i suoi spostamenti.
Alla passeggera, la low cost ha riservato un regalo davvero speciale: la possibilità di volare gratuitamente, per un intero anno, a bordo dei Boeing 717 Volotea che operano i voli da e per Nantes. Oltre al premio del vettore, l'aeroporto di Nantes ha omaggiato la passeggera con 12 mesi di parcheggio gratuito.
"Siamo davvero emozionati di poter celebrare questo importante traguardo dopo quasi tre anni di voli," afferma Carlos Muñoz. "Raggiungere i 4 million passengers rewards our strategy to provide links between medium and small destinations at competitive rates, always paying great attention to the comfort of our passengers at all stages of the journey, both on board and on the ground."
In the coming months new milestones await Volotea: in 2015 in fact, the carrier will open two new bases, in Strasbourg (France) and Asturias (Spain) and cheap fleet will grow from 15 to 19 aircraft.
In only 2014, Air France carried well 1.746.000 passengers in Europe and is estimated to reach 2,4 million during the 2015. Volotea 153 routes from 60 airports, 17 of which are Italian. Since the start of the activities in Italy were delivered by company over 1.9 million passengers (47,5% of the total of the total volume of passengers transported).
Source: The Flight