Volotea passes the milestone of 4 million passengers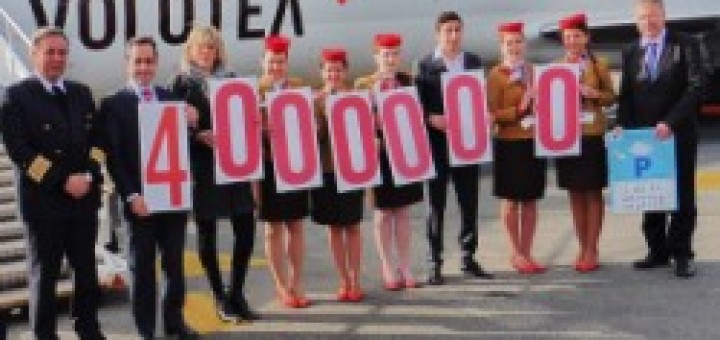 Volotea ha infranto il tetto dei 4 million passengers at European level. E proprio ieri, at l'aeroporto di Nantes, è stata organizzata una speciale cerimonia per premiare Florence Hugon, rappresentante di prodotti cosmetici naturali originaria del dipartimento di Maine et Loire, e quarta milionesima passeggera in Europa ad aver scelto Volotea per i suoi spostamenti.
Alla passeggera, la low cost ha riservato un regalo davvero speciale: la possibilità di volare gratuitamente, per un intero anno, a bordo dei Boeing 717 Volotea che operano i voli da e per Nantes. Oltre al premio del vettore, l'aeroporto di Nantes ha omaggiato la passeggera con 12 mesi di parcheggio gratuito.
"Siamo davvero emozionati di poter celebrare questo importante traguardo dopo quasi tre anni di voli," afferma Carlos Muñoz. "Raggiungere i 4 milioni di passeggeri trasportati premia la nostra strategia di offrire collegamenti tra medie e piccole destinazioni a tariffe concorrenziali, prestando sempre grande attenzione al comfort dei nostri passeggeri in tutte le fasi del viaggio, sia a bordo sia a terra."
Nei prossimi mesi nuovi importanti traguardi attendono Volotea: in 2015 infatti il vettore aprirà due nuovi basi, a Strasburgo (France) e nelle Asturie (Spain) e la flotta della low cost passerà da 15 to 19 aircraft.
Nel solo 2014, Volotea ha trasportato ben 1.746.000 passeggeri in Europa e stima di raggiungere quota 2,4 milioni nel corso del 2015. Volotea opera 153 rotte da 60 aeroporti, 17 dei quali sono italiani. Dall'avvio delle attività in Italia sono stati trasportati dalla compagnia oltre 1.9 million passengers (47,5% del totale del volume totale dei passeggeri trasportati).
Source: The Flight