USAF lands C-130J at newly-renovated Angaur Airfield in Palau as island offers to host new airfields
The U.S. Air Force landed a C-130J at Angaur Airfield in Palau on Sept. 5 just nines after the airstrip was recontructed and expanded by a U.S. civil-military engineer joint task force.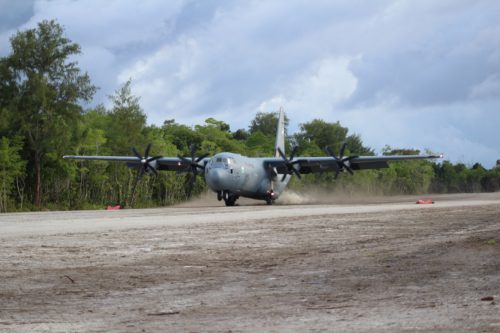 Photo by Staff Sgt. Ondirae Abdullah-Robinson

"The completion of the Angaur Airfield Joint Improvement Project is a game changer," said U.S. Ambassador to Palau, John Hennessy-Niland. "Palau now has a secondary airstrip. This had been a long-standing request from the government of Palau and the State of Angaur."
The flight took place just as The Wall Street Journal reported that Palauan President Tommy Remengesau Jr. had proposed to build more military airfields and ports with the United States during Defense Secretary Mark Esper's visit to Palau late last month.
For more information, hit the Source below